Portuguese water dogs were originally bred to herd fish, retrieve lost tackle or broken nets, and act as couriers from ship to shore.
They're good for people with allergies and make excellent companions since they are loving, independent, intelligent, and easy to train.
Portuguese water dogs also enjoy being petted and are friendly with strangers. Just be warned that like many larger dogs, boredom can cause them to become destructive.
Newfoundland Dog
Known as "nature's babysitter," Newfoundland Dogs are the absolute sweetest. Perhaps the best-known Newfoundland is the fictional Nana from "Peter Pan," who was so wonderful with children.
These gentle giants are highly loyal and easy to train and are legendary for their docile temper.
Newfoundland dogs are also strong swimmers, and the breed was trained to rescue people from drowning — one dog even famously saved Napoleon Bonaparte.
Maltese
One of the most ancient of the toy breeds, Maltese dogs were bred to be sweet and adoring of their owners. The Greeks even erected tombs for their Maltese dogs, and in Elizabethan times, they were called "The Comforter" because it was believed they could relieve pain and cure illness.
Maltese dogs are also extremely hypoallergenic, with silky coats that don't shed.
Golden Retrievers
Goldens are sweet, loyal, and incredible companion dogs. They'd rather be sleeping at your feet than running around outside without you.
They're also very even-tempered, especially with small children. Goldens make great service and comfort dogs because of their friendly and tolerant attitudes.
Plus they were bred to retrieve ducks and other fowl for hunters, so if you like playing fetch, this is the dog for you.
Poodles
Poodles get a bad rap. But they're easy to train since they're so intelligent and are lively, fun-loving, and loyal family dogs. 
Poodles can be attention seekers, so don't be surprised if this people-oriented breed is constantly with you.
They're also protective of their families and homes and can become aggressive with people outside the family or with other dogs.
Beagles
Because of their intelligence, Beagles are used by law enforcement at airports to sniff baggage for items that are not permitted. Due to their friendly nature and appearance, Beagles don't worry passengers.
This breed also has a lack of inherited health problems and an even temper which is good for families and small children.
5 worst accidents in air-Travel History
Here are 5 of the worst aviation disasters that were caused by mechanical failure, human error, or climatic conditions.
What is important to note is that each disaster ushered in new developments and standardizations in aviation safety and technology, making it the safest mode of travel today.
Tenerife Airport Disaster (1977)
This was one of the worst disasters in aviation history that occurred as a result of a series of unfortunate events, starting with an explosion at Gran Canaria airport in Spain. This resulted in a number of flights being diverted to Tenerife Airport, including the ill-fated KLM Flight 4805 and Pan Am Flight 1736.
Due to dense fog, the absence of ground radar, and miscommunication, the two Boeing 747s collided with each other on the ground, claiming the lives of all 583 passengers on board in both flights of which only 61 passengers from the Pan Am flight survived.
Japan Airlines Flight 123 (1985)
The Boeing 747 was carrying 524 passengers, including crew when it crashed into mountainous terrain at Mount Takamagahara, north-west of Tokyo.
 The flight, which departed from Tokyo"s Haneda Airport, was en route to Osaka. Just 12 minutes into the flight, the unthinkable happened, the aircraft suffered explosive decompression. This resulted in the loss of the rudder and hydraulic systems, effectively crippling the pilot's control over the aircraft. Despite this, the crew managed to keep the plane airborne for another half an hour, but it finally crashed into a ridge, killing 520 passengers, leaving just 4 survivors.
Charkhi Dadri Mid-Air Collision (1996)
The collision occurred soon after the Saudia flight took off from New Delhi, while the Kazakhstan flight was readying for its arrival. As a result of poor English communication skills on the part of the Kazakhstani pilots and the absence of secondary surveillance radar at Indira Gandhi International Airport the flight paths crossed and the pilots were unable to avert a collision. All 349 people on both flights perished in the disaster.
Turkish Airlines Flight 981 (1974)
As a result, the latch of the rear cargo hatch blew open mid-flight. This caused rapid decompression and severed cables that left the pilots with no control over the aircraft. The McDonnell Douglas DC-10 plunged into the Ermonville forest, just outside of Paris, France, claiming the lives of all 346 souls on board.
Turkish Airlines Flight 981 crashed outside of Paris because of a design flaw and the failure of Moroccan baggage handlers to properly read and understand instructions provided to them in both English and Turkish language.
American Airlines Flight 191 (1979)
The American Airlines Flight 191 crash remains the worst airline accident within the United States and it also brought disrepute to the McDonnell Douglas DC-10. Disaster struck just moments after takeoff as one of the engines from the left-wing of the plane separated from the aircraft, flipping over the top of the wing. This caused significant damage and it also resulted in severing the hydraulic fluid lines. The aircraft instantly went into a roll, turned over and plummeted into a nearby field. Investigations revealed that the disaster was caused by faulty maintenance procedures followed by the aircraft personnel, claiming the lives of all 273 people on board, as well as 2 on the ground.
Jack Ma Biography: Birth, Childhood, Education, Philanthropy, Business and Entertainment Career
Jack Ma or Ma Yun is one of the world's most powerful people and is the global brand ambassador for Chinese business. With a net worth of $42.1 Billion, Jack Ma is the second wealthiest person in China, as of April 2020.
Jack Ma (age 55 years) is a Chinese businessman. investor and politician. Jack Ma, the co-founder of Alibaba was retired as its Executive Chairman in September 2019.
Jack Ma (age 55 years) is a Chinese businessman. investor and politician. Jack Ma, the co-founder of Alibaba was retired as its Executive Chairman in September 2019. After serving for around 13 years, Jack Ma has stepped down from Softbank Group's board of directors. Alibaba is the multinational technology conglomerate.
Jack Ma or Ma Yun is one of the world's most powerful people and is the global brand ambassador for Chinese business. With a net worth of $42.1 Billion, Jack Ma is the second wealthiest person in China, as of April 2020.
Jack Ma: Childhood and Education
Jack Ma was born on September 10, 1964, as Ma Yun in Hangzhou, Zhejiang, China. Jack Ma started studying English at a very young age. At the age of 9 years, Jack Ma travelled 27 kilometres on his bicycle to guide tourists so that he can practise English. Jack Ma further became pen pals with a foreigner who nicknamed him Jack as the Chinese name was hard for him to pronounce.
For getting admitted to college, Ma took three years to clear the Chinese entrance examinations as they were held once in a year. Jack Ma attended  Hangzhou Normal University (earlier Hangzhou Teacher's Institute). In 1998, Jack Ma graduated with a Bachelor of Arts degree in English. After completing his graduation, Jack Ma started teaching English and international trade at Hangzhou Dianzi University.
Jack Ma: Business Career
Jack Ma applied for 30 different jobs but faced rejection. He went for a job with the police and was told that he is not good. He went to KFC with 24 other people, everyone was selected except him.
In 1994, Jack Ma heard about the Internet and started his own company 'Hangzhou Haibo Translation Agency'.
In the year 1995, Jack Ma along with his friends visited the United States. In the US, he found information related to beer from several countries except for China. He was surprised to find no general information about China on the Internet.
In October 1999 and in January 2000, Alibaba won a total $25 million foreign investment twice. To improve the global e-commerce system, Jack Ma founded Taobao Marketplace, Alipay, Ali Mama and Lynx. After its huge success, eBay offered to purchase Taobao but Ma turned down the offer. Yahoo co-founder Jerry Yang invested $1 billion in Taobao.
In September 2014, Alibaba was rising on the New York Stock Exchange over $25 billion in IPO and became one of the most valuable technology companies in the world. This was the largest initial public offering in US history. Jack Ma served as executive chairman of Alibaba Group, which holds– Alibaba.com, Taobao Marketplace, Tmall, eTao, Alibaba Cloud Computing, Juhuasuan, 1688.com, AliExpress.com, and Alipay.
Jack Ma: Philanthropy
Jack Ma founded a philanthropic organization 'Jack Ma Foundation' which focused on improving education, environment and public health.
In 2008, Alibaba donated $808,000 after the Sichuan earthquake caused destruction. In 2009, Jack Ma was appointed as the trustee of The Nature Conservancy's China program, and in 2010, became one of the Directors of the organization.
In 2015, Alibaba Hong Kong Young Entrepreneurs Foundation was launched to support the entrepreneurs of Hong Kong to help grow their business. The same year, Alibaba funded for the construction of the houses damaged by the earthquake in Nepal.
In 2018, Jack Ma started the Jack Ma Foundation and announced his retirement from Alibaba citing several reasons– educational work, philanthropy, and environmental causes.
Top 5 Most Protected President in Africa 2020
Alpha Conde
The president of Guinea, Alpha Conde rides on an armored Mercedes Benz and is guarded by high speed police motorcycle. When he is to visit the public he is guarded by more than 20 presidential guards.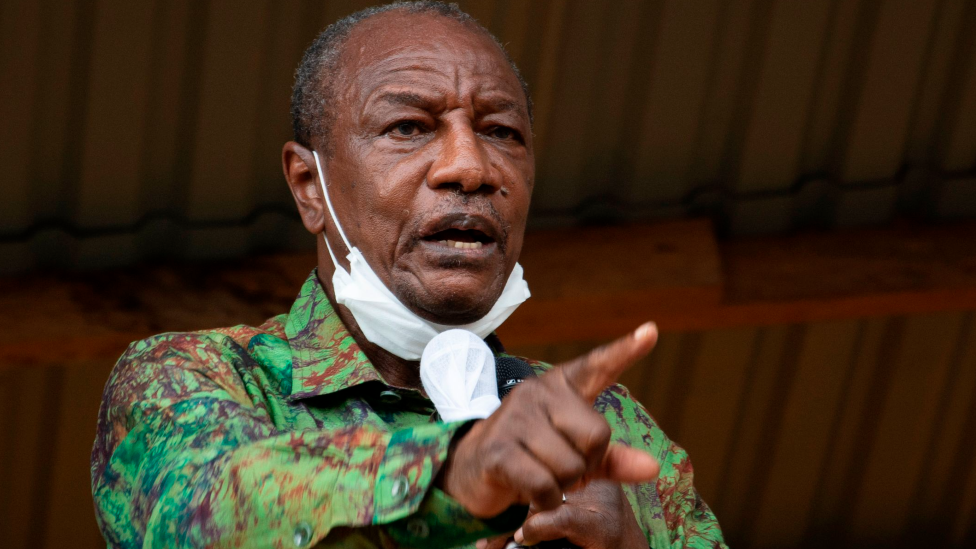 Uhuru Kenyatta
President Uhuru, the president of Kenya rides in armored land cruiser 200. His convoyed comprises of high speed police motorcycle, several of expensive cars like Mercedes Benz X class and guarded by more than ten presidential guards.
 Paul Kagame
He drives Rangerover which cost $550,000. He is always guarded by high speed Mercedes Benz, several police motorcycle and land cruisers.
President Paul is the president of Rwanda. He is the most loved president in Africa since he has taken it upon himself to call out bad leadership Africa and as well expose bad Western influence in African politics.
Cyril Ramaphosa
Cyril Ramaphosa is the fifith and current president of South Africa, one of the most beautiful and developed countries in Africa. He became the president of south Africa in 2019 and is on the list of the most protected African presidents.
Muhammadou Buhari 
Muhammadou Buhari became the president of Nigeria in 2015, Being the president of the most populous country in Africa, Buhari is definately one of the most protected presidents in Africa. His safety and protection is of utmost importance to the people of Nigeria. His presidential Motorcade is one of the largest and most impresive in Africa. Buhari's security is very tight, His Motorcade always comprises of high speed police motorcycle, several presidential guards which he takes with him when he goes on Official Assignments both in and out of the country.