Akothee celebrates having 2.2M followers on Facebook
Akothee has recently celebrated her fans, thanking them for their support and always being with her. She now has 2.2 million followers on her Facebook page.
She is a single mother of five and proclaims herself as the president of single mothers Akothee has offered financial and emotional support to many people, making her the role model to many.
She claims it's not easy to have a huge number of followers on social media platforms, making her so grateful to her fans.
She is a very talented musician and a successful entrepreneur in Kenya. Her hard work encourages many people across the country.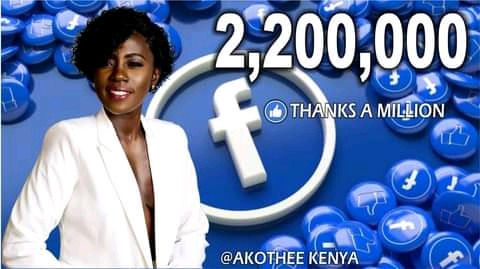 Trevor Ombija joins Ramogi TV
Citizen TV's Trevor Ombija has been unveiled as one of the presenters on Ramogi TV which is set to be launched soon.
On Wednesday, November 24 Royal Media Services released a promotional video in which Ombija was named as one of the faces of the new station.
"In the Luo nation and Kenya as a whole, we mark a new dawn. From the Royal Media services we bring you the latest news through reporting from our journalists," the TV anchor stated.
From Nation Media Group where he was also a news anchor, Trevor joined the RMS family in 2018.
Ramogi TV will add to RMS's list of media stations like Citizen TV and Inooro TV.
The conglomerate run by SK Macharia also controls fourteen radio stations across the country.
The radio stations are Radio Citizen, Ramogi FM, Inooro FM, Musyi FM, Chamgei FM, Muuga FM, Egesa FM, Bahari FM, Mulembe FM, Wimwaro FM, Sulwe FM, Hot 96 and Vuuka FM.
The shifting of media landscape over the years especially following the digital migration, increased access to the internet and digital platforms, and continued proliferation of mobile devices.
This has led to the fragmentation of audiences and the growth of vernacular TV and Radio stations.
Kanye west vows to restore his family with Kim Kardashian as she dates Pete Davidson
"Now it's time to restore the families this Thanksgiving. It's all about restoring the family," he shared. "This morning I felt so blessed to wake up, to work out, and be able to drive to my house and see my wife and my kids."
He continued, "That's right. I said my wife and my children, and I want everyone to pray for my family."
The Grammy nominee explained that he's trying to express himself in the "most sane" and "calm way possible," adding that he thinks it's important to discuss the subject so people see the importance of uniting families.
"I am saying this because if the enemy can separate Kimye, there are going to be millions of families that feel like that separation is OK."
Read more
A second source noted that Kim "tried for a long, long time" to make their marriage work but eventually "reached her breaking point."
During an appearance on Revolt TV's podcast, he shared, "At the end of the day, I ain't got the paperwork yet, so I'm going to come on this joint and try to save my family and keep my family together."
Money Heist season 5 reveals end of the journey
The crew fights to survive the conflict they've gotten themselves into with the Spanish government in the new teaser, which incorporates footage from Part 5 Volume 2.
We see romantic moments between Denver (Jamie Lorente) and Monica (Esther Acebo), Ro's (Miguel Herrán) anguish after losing Tokyo (rsula Corberó), and images of excitement and absolute horror across the crew.
With a glimpse at the filming process for Part 5, the teaser also offers a behind-the-scenes look at the making of the series that fans have come to love.
The actor who plays Palermo, Rodrigo De la Serna, vows that the last five episodes will not disappoint fans of the show.
He said that they are confident that the audience will enjoy what is coming and that it will be quite powerful. Palermo was a divisive character when he first appeared.
Fans will also receive the promise of seeing Tokyo again in Money Heist's flashback scenes near the end of the teaser.
Related Topic: 
Lex Pina, the creator and primary writer of Money Heist, sits down with Corberó to explore how she'd want to see her character return in those moments, and she requests periods of fun and levity packed with partying and dancing, as befitting the heart of Tokyo.
season 5 is expected to be released on 3rd December.