ANC's Peter Nabulindo sworn in as Matungu MP.
Peter Nabulindo is the newly elected Matungu constituency MP.
He took the oath of office at the National Assembly on Thursday.
Nabulindo who vied on an ANC ticket, won the by-election that was held on March 4th 2021, following the demise of MP Justus Murunga in November last
Atwoli Road signpost vandalized again by Unknown people
COTU boss enemies seem not to give him a rest. Francis Atwoli Raod signpost along Kileleshwa, Nairobi has yet again been vandalised, this time burned by unknown people on the wee hours of Tuesday.
This comes barely two weeks after the same signpost near Kenya High School was dug up and removed. Atwoli later condemned the move saying the vandalisation was an act of impunity and primitiveness.
On Tuesday morning, pictures of the signpost circulated on social media, showing how it was burnt using old tires.
Nairobi County Government named the road in May after Atwoli, in a ceremony led by the Acting Governor, Ann Kananu alongside other county officials.During the ceremony of recognition, Atwoli said it was in honour of his service to Kenyan workers.
President Mwai Kibaki trends on twitter
Now, some from yesterday night, hon Mwai Kibaki started trending on Twitter. This means that majority of the Twitter users are now tweeting about him. After looking keenly at the people's tweets, I found the main reason why Mr. Kibaki is now trending.
As seen from the tweets, people are praising Mr. Kibaki for being the best minister for finance in the Republic of Kenya. People are saying that Kibaki is the person who boosted the economy of this country.
"Mwai Kibaki borrowed KSh 244.8 Billion in his first 7 years in office while Uhuru Kenyatta has borrowed KSh 5.17 Trillion in his first 7 years in office. Worrying trend perhaps," said Mr. Ninja
"During Kibaki's time we used to have a budget deficit of 400B that was easily raised by the Judiciary, other govt fees, and small borrowing…now we have a deficit of 1.7 Trillion. The deficit is bigger than Kibaki's last entire budget. Tano Terror! Kusema na kutenda." Said Mama JJ.
"Kibaki did12 good years in Finance.. 9 of those Vice president….Wow! Guy knew everything government for sure." Said Mr. Paul Mwago
"Kibaki was a great Finance Minister and the best President in history. He was a finance Minister for 12 years; tells us about his competency in the field. Working on a budget of less than 200 Million though must have been tough," said Mr. Bethwell Cheruyot
Senior Politician and ex CS Forced to Flee, Survives Rowdy Crowd After Doing This
According to the toTv47 digital news platform, former Cabinet Secretary (CS)Rashid Echesa was involved in a scuffle with a political rival who was vehemently opposed to the politician's protestation. The former CS has been battling against the current Kakamega Senator Cleophas Malala who he accused of politicizing the acquisition of the sugar miller which he said was the economic lifeline of the region.
The former CS was forced to flee the scene after his bodyguards restrained him from getting physical with the heckler who disrupted him while proceeding to the company's offices accompanied by supporters in motorbikes.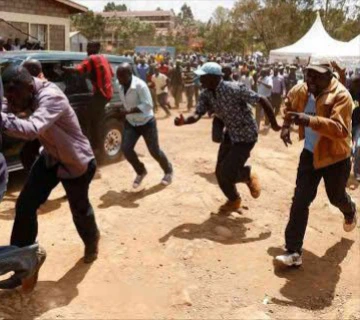 There was a scuffle earlier today after a senior politician from Western region was heckled and forced to flee during a protest march. The incident which happened earlier in the day was the culmination of a 3 day long protest over the proposal by DEVKI billionaire industrialist plans to acquire the defunct Mumias Sugar Company.