CS Matiangi distances himself from a post attacking Uhuru, angrily respond to his impeachment claims
According to the post-it had alleged that Cs Fred Matiangi had informed that he is ready to resign after the impeachment pressure adding that his post should be given to someone else and that President Uhuru Kenyatta should be petitioned on the same.
"I am aware there is a social media trend asking for my sacking, sponsored by tribalists in government who have always been uncomfortable with a Kisii holding the post I held. If a certain region feels this post belongs to them, let them petition His Excellency to give it to them and I can go work with my people in other capacities. I will not die doing a thankless job," read the Fake post.
On the ODM side, Edwin Sifuna who is the Party Secretary-General had informed that for President Uhuru Kenyatta to secure his legacy, then he must impeach the CS.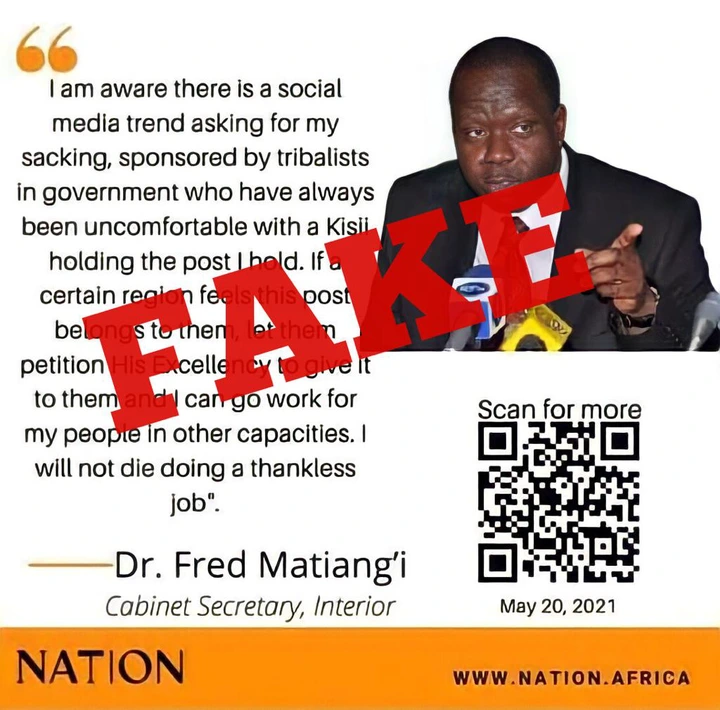 Among leaders attacking the CS are Kapseret MP Oscar Sudi and who had said that "President Uhuru Kenyatta's team has been planning to impeach Ruto but I want to tell you one thing, impeaching the DP is not as easy as you think. But let's leave that now, I want to tell you this, we're going to impeach Matiang'i, in the next two weeks, Matiang'i must go home."
Read also;https://thebigissue.co.ke/rapper-khaligraph-jones-reveals-that-he-has-never-taken-alcohol-in-his-life/
Mashujaa day to bring Uhuru and Ruto face to face
Ruto, who has served as Uhuru's deputy since 2013, has irretrievably fallen out with his boss and has aggressively intensified his 2022 presidential campaigns
President Uhuru Kenyatta will on Wednesday come face-to-face with his rebellious deputy William Ruto during Mashujaa Day celebrations as the 2022 succession war intensifies. 
David Mugonyi, DP's communication secretary, said Ruto will attend the event because it is "a national function".
"The Deputy President will attend the event in Kirinyaga on Wednesday because it is a national event in the country's calendar," he told the Star.
ODM leader Raila Odinga, seen as Uhuru's preferred successor, and a host of other opposition luminaries will also grace the occasion
Raila's spokesperson Dennis Onyango confirmed to the Star that the ODM boss will honour a state invitation to attend the event.
Ruto has not seen eye to eye with Uhuru since the June 1 Madaraka Day celebrations in Raila's Kisumu backyard.

On August 23, Uhuru openly asked the DP to quit government, if he is dissatisfied with its performance instead of critising it from within.
"The honourable thing is that if you are not happy with it, step aside and allow those who want to move on to do so and take your agenda to the people," Uhuru said.
"You can't have your cake and eat it. You can't on one hand say I am not going and at the same time that you don't agree."
Ruto then dismissed the President's call, insisting he is a man "on a mission" with "no room for retreat or surrender". He added that he was elected jointly with the President and with a specific mandate.
Uhuru and Ruto have met less than three times this year as they no longer read from the same script in the running of government affairs, a further pointer to their deteriorating relationship.
Uhuru, who has edged Ruto out of the government in what is seen as a move to cut his influence in government circles, has chosen new allies as he tries to manage his succession politics.
It would be interesting to watch the audience reactions, the speeches by Uhuru, Raila and Ruto after months of political attacks targeting each other as the 2022 succession hots up.
President Kenyatta landed at Sagana State lodge in Nyeri county, for a meeting with Kirinyaga leaders in what was seen as part of plan to break the ice ahead of the national fete tomorrow.
He urged Kirinyaga leaders led by Governor Anne Waiguru to unite and work together to achieve faster development and prosperity for their county.
Uhuru also cautioned the leaders against politics of deceit and empty rhetoric, saying good leadership emphasizes peace, cohesion, and unity of the people as enablers of development. 
Kirinyaga, Uhuru's political turf is part of the wider Mt Kenya vote basket where Ruto and Raila are tussling for supremacy.
Already, there have been tensions building among the political leaders from the county, with some alleging having been overlooked on the preparations for the country's big day. 
There have been protracted tussles between Governor Waiguru and Woman Representative Wangui Ngirici.
Waiguru has claimed having been sidelined by Interior PS Karanja Kibicho, who also hails from the county.
Governor Anne Waiguru And PS Karanja Kibicho Clash Over Mashujaa Day Celebrations Plan.
Kirinyaga Governor Anne Waiguru and Interior Principal Secretary Dr Karanja Kiricho on Sunday 17th October 2021 clashed over the Mashujaa Day Celebrations plan that is set to take place in Kirinyaga County.
They clashed during a leaders peace meeting that was held at the Ndindiruku village in Kirinyaga where Dr Kibicho told governor Waiguru to stop dragging politics into the National event is set for Wednesday 20th October 2021.
Earlier the Kirinyaga governor threatened to boycott the ceremony claiming that she was being sidelined in all the preparations yet she was the governor of the area.
"I have no say at all as the host. They said the county commissioner is the one running the show." She said
Ps Kibicho dismissed her claims saying that they created a Whatsapp Group where all the leaders were asked to nominate five people they wanted to participate in the Mashujaa Day preparations and the governor was fully involved.
"We even have a WhatsApp group forum where we exchange views on the preparation of the fete where the county is represented by ten officials. The issue of sidelining the governor should not arise," he said
"Mashujaa Day is for the whole country and Kirinyaga is just a host. The county is not supposed to organize such an event and she should know that," He added
"We should be peaceful and allow the President to address the nation. Once the celebrations are over, we can face off after the President leaves," Kibichu concluded.
Last week,Kirinyaga Governor Anne Waiguru and the County Women Rep Wangui Ngirici had an altercation over billboards erection in Kirinyaga County that led to both their billboards being brought down.
Speaking to the press last week he said that the preparations of the Wanguru Stadium were 95% complete and that only two billboards would be erected.That is billboards for President Uhuru Kenyatta and for Governor Waiguru which will be erected across the roads and other strategic places within the county.
"The County Commissioner's residence in Kirinyaga County is now complete. It'll be part of the State Lodge in Kerugoya Town. We've also delivered Phase I of the Kirinyaga Central Sub-county Police Station ahead of Mashujaa Day celebrations next week," he said.
He added that the Mashujaa Day celebrations will not be held at the County level and that only one celebration will be held in Kirinyaga County as only 2000 people will be allowed to be in the stadium, this is in line with the COVID-19 pandemic.
"Covid is still here with us, and in a bid to reduce the infection rate, we have to adhere to all government protocols. As a result, a majority of Kenyans will follow the live proceedings through various broadcast mediums from the comfort of their homes," he said in a statement.
High court declares Huduma Namba roll out illegal
The high court has quashed a decision by the government to roll out the Huduma Namba cards, ruling that it is illegal on grounds of being in conflict with the Data protection Act ,2019 .
Section 31 of the Data Protection Act requires data processing to be preceded by a data protection impact assessment to assess any data processing risks so that they can be mitigated .
Justice jairus Ngaah on Thursday, October 14 said the government faulted by not conducting a data protection impact assessment before launching the process.
Justice Ngaa therefore declared Huduma Namba roll out to be illegal.
"An order is hereby issued to bring into this honourable court to quash the government decision of November 18 2020 to roll out Huduma cards for being ultra vires of the data protection act 2019," the court ruled.
"Order of mandamus is hereby issued compelling the government to conduct a data protection impact assessment in accordance with section 31 of the Data Protection Act before processing of data and rolling out the Huduma cards," the judge added.
As of September 2021, at least 9 million Huduma Namba cards had been processed and dispatched across the country.The government has been planning to faceout the identity cards in favour of Huduma Namba by 2021.
The government was thus directed to create safeguards to protect kenyans' data . In the case , katiba institute moved to court to stop the roll out of the cards by the state since there is no data protection impact assessment .