DMX biography- Life, marriage, children.
Earl Simmons (December 18, 1970 – April 9, 2021), known by his stage name DMX ("Dark Man X"), was an American rapper, songwriter, and actor. He began rapping in the early 1990s and released his debut album It's Dark and Hell Is Hot in 1998, to both critical acclaim and commercial success, selling 251,000 copies within its first week of release.
He released his best-selling album, … And Then There Was X, in 1999, which included the hit single "Party Up (Up in Here)". His 2003 singles "Where the Hood At?" and "X Gon' Give It to Ya" were also some of his most popular.
DMX was featured in films such as Belly, Romeo Must Die, Exit Wounds, Cradle 2 the Grave and Last Hour. In 2006, he starred in the reality television series DMX: Soul of a Man, which was primarily aired on the BET cable television network. In 2003, he published a book of his memoirs entitled, E.A.R.L.: The Autobiography of DMX.
On April 2, 2021, at approximately 11:00 pm, Simmons was rushed to a hospital in White Plains, New York, where he was reported to be in critical condition following a heart attack at his home possibly resulting from an overdose.The next day, his attorney, Murray Richman, confirmed Simmons was on life support. That same night, tabloid journalism outlet TMZ, who first reported on the hospitalization,stated that Simmons had suffered oxygen deprivation to his brain as paramedics attempted to resuscitate him for 30 minutes.
Simmons' former manager, Nakia Walker, said he was in a "vegetative state" with "lung and brain failure and no current brain activity". His manager, Steve Rifkind, stated Simmons was comatose and that he was set to undergo tests to determine his brain's functionality which would allow his family to "determine what's best from there".
On April 9, 2021, Simmons had reportedly lost functionality in multiple essential organs, including his lungs. Simmons was pronounced dead later that day, age 50, according to a statement released by his family.
DMX had multiple extramarital affairs during his marriage to Simmons, some of which produced children. DNA testing confirmed that he was the father of at least two children; the first was born to Maryland resident Monique Wayne in 2004, the second to a different woman in late 2008. DMX and Wayne fought over her claim that he was the father of her son for years, during which she had sued him repeatedly for defamation of character and for child support. After DNA testing proved DMX fathered Wayne's son in 2007, he was ordered to pay her $1.5 million.
On July 30, 2013, DMX filed for Chapter 11 bankruptcy, citing his child support obligations as his priority claim. The filing was challenged by the Department of Justice's bankruptcy watchdog trustee program, and was later dismissed by the U.S. Bankruptcy Court in Manhattan on November 11, 2013.
Huddah Monroe arrested in Dubai.
Huddah has never seemed to be in a hurry to come back to Kenya since going to Dubai. At some point, the beauty had hinted at her desire to come back to Kenya but this never came to light. She confirmed selling her house in Nairobi to a fan.
However, Huddah who has been in Dubai for a while now is going through a hard time as she cannot come back to her home country anytime soon.Words have it that she is under arrest following a fraud case
In July 2020, the Huddah cosmetic CEO denied charges of going broke while in Dubai. A source who is in Dubai revealed to the already informed blogger Edgar Obare that she has been hearing rumors that Huddah together with her boyfriend has been arrested.
"When are you coming home,we miss you".
"The world is s my home.I no longer have a specific place I call home.Anywhere that I feel at peace ,am content.And happy that's home for me".
She added "I no longer have a home in Kenya,I sold it".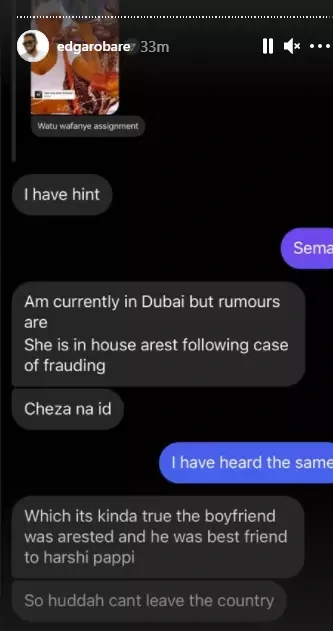 Khloe Kardashian and Tristan Thompson Split Again
Khloe Kardashian and Tristan Thompson have called it quits, again.
A source said that the reality star and professional basketball player recently decided to go their separate ways. They share one child together, 3-year-old daughter True.
News of their most recent breakup comes amid reports that Khloe threatened to take legal action against a woman who is claiming that Tristan fathered a child with her. Khloe is reportedly suing the woman, Kimberly Alexander, for defamation, claiming that she fabricated direct messages to make it look like she and the reality star had a conversation over Instagram.
Khloe's attorney, Lynda B. Goldman of Lavely & Singer Professional Corporation, claimed in court documents to that "a DNA test from one of the nation's top labs confirmed that Mr. Thompson is not the father of [Kimberly's] child."
Additionally, Instagram model Sydney Chase claimed during an April interview that she hooked up with Tristan back in the fall. Tristan has vehemently denied her claims.
Diamond and Zari Hassan set to appear on a reality show on Netflix
Tanzanian superstar Diamond Platnumz and the mother of his two children, Zari Hassan are set to make a debut on Netflix, going by an update shared by Netflix South Africa.
The two are set to feature in an upcoming African reality show called "Young, Famous and African.
On Tuesday, 22 June 2021, Zari Hassan took to social media to share the good news, stating that she is about to take over Netflix.
The upcoming reality show is set to feature a total of 8 African stars, if the posters shared by Netflix is anything to go by.
Chibu Dangote and his Baby Mama will be joining the list of other African stars who have featured on the International Movie streaming platform.