InterContinental Hotel's multi million assests put on auction
According to documents obtained from Garam Auctioneers, some of the cars being auctioned include a Range Rover Discovery, Mercedes Benz Sprinter, and an Isuzu FRR.
The government also has a 33.8 per cent stake in the five-star hotel which at its peak offered accommodation to high profile guests and heads of state.
For years now the state has been looking for a buyer to offload its share to and the new plans could complicate the intended sale.
Some of the options the owners who include associates of former president Daniel arap Moi are considering include; office blocks, stalls and mini-hotels all in one building such as a mall.
n the midst of the Covid-19 economic crisis, the InterContinental Hotel announced in August that it would terminate its lease agreements with KHP, the hotel's holding company, and close the facility.
As a result, Sovereign Group appeared to be the most likely candidate to acquire the 33.8 percent stake prior to its sale to outsiders.
The Intercontinental Hotels Corporation Group, which is listed in both the UK and the USA, has a 33.8 percent stake in the hotel group.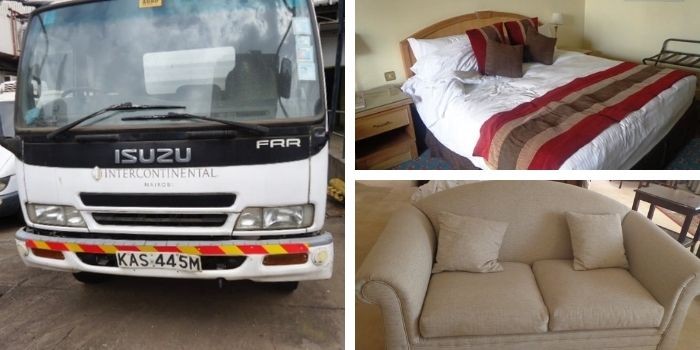 Pain in the new fuel prices
A litre of petrol in Kenya's Capital Nairobi will now cost Ksh.134.72 rising from Ksh.127.14.
The cost of diesel meanwhile spikes to Ksh.115.60 from Ksh.107.66 while kerosene will cost Ksh.110.82 from Ksh.97.85.
EPRA has attributed the rising fuel prices higher costs for landed petroleum products with the cost of landed super petrol rising by 0.72 percent, diesel by 4.81 percent and kerosene by 0.96 percent.
In its latest maximum pump price review, the Energy and Petroleum Regulatory Authority (EPRA) has raised the prices of super petrol by Ksh.7.58 per litre.
The greater fuel costs are expected to hurt Kenyans not just at the pump but also in their pockets as the cost of living surges with the prices of other basic commodities rising in the aftermath of higher petrol costs.
Kenyans will face more pain at the pump from Wednesday as petrol prices zoom past the Ksh.130 mark per litre, an all-time high cost for the commodity.
The energy sector regulator however masks the true reasons behind the astronomical surge in fuel costs.
The fund run partly by the National Treasury has provided respite to consumers by lowering margins paid to suppliers/ oil marketers who are later compensated by the exchequer for the hair cut.
Kenya Set to host the 2nd annual Africa Digital Finance Summit Early Next Year
Kenya is set to host the 2nd annual Africa Digital Finance Summit (ADFS) on 22nd – 24th February, 2022.
The three-day event themed "The Future of Finance in Africa; our pathway to financial freedom" will incorporate a thought-leadership conference featuring governments, central banks across Africa, prominent executives representing global Fintech operators, start-ups, professionals and decision makers across the world in the financial, economic, technology, fintech and block chain industry to deliberate and forge a pathway towards the future of finance in Africa.
"The Africa Digital Finance Summit 2022 (ADFS) will provide Africa with an opportunity to leapfrog the mistakes of the West by reimagining entire systems of production, financial services, and governance fueled by financial innovations & blockchain technologies thus positioning herself as the continent where solutions in Finance will be implemented successfully," says Mary Njoki, Organizer and CEO of Glass House PR.
Coming at the backdrop of the Free Trade Agreement in Africa, this annual summit will spearhead the conversation of re-defining value exchange for Africans and encouraging them to leverage on Digital and Decentralized Finance in their businesses and everyday transactions.
The African Fintech report of 2020 states that Africa as a continent has an edge with technology because the mobile subscription penetration rates are up to 80%, thus this summit aims to position Africa as the continent where innovative solutions in digital and decentralized finance will be found and implemented successfully.
During the Africa Digital Finance Summit 2022, the ADFS Report of 2021 will be presented and released to the public. Conversations in the summit will include; understanding blockchain technologies and cryptocurrencies, Implementation of Defi in Africa, Policies governing disruption in finance, Introduction of central bank digital currencies in Africa, the introduction of NFTs for art, amongst other topics.
Want The Best Heaters This Winter- Rare Infrared Heaters Got you
Summer season is approaching and you know how intense the season can always get. So in preparation for this tough season there are ways that can help during the season, this includes having heaters around the house to keep it warm. As the winter season is around the corner, you should consider having a good heater in your home. Today, we are going to show you how to select the best infrared heater for your space, whether you are looking at your house or office space. Deciding which type of heater is best depends on a number of factors.
First of all,how big is the area you need to heat? Do you plan to heat the entire space or just smaller areas inside the house or space? Figuring this out will tell you how many infrared heaters you will need and help narrow down your selection.
Determining where to place the heater is also important. You have to consider whether there are any walls or a ceiling in the patio space or whether there is a lot of wind blowing? This helps you determine where to install your infrared heater to get maximum warming.
Infrared heaters warms more like the way the sun heats the earth. Rather than heat the air, the infrared waves from the infrared heater, heat the objects they come into contact with. This type of heat is great outdoors and indoors because it doesn't rely on air movement to spread the warmth. Now, you need to know what fuel types are available to you. This is an important factor in choosing which infrared heaters you are able to build in.
Natural gas is more permanent and will need to be professionally installed but usually costs the least to run. Electric is the best choice for enclosed spaces like sunrooms or garages. Propane is the most portable option but can get a little costlier refilling the tanks. Now let's talk style. Patio heaters come in many shapes and sizes.
If you are looking for a heater you can unpack and use immediately then a freestanding or table top heater may be right for you. These mushroom heaters are portable and simple to use but only heat the immediate area around them- usually about 8-10 feet depending on things like wind or drafts so you may need to get a few to heat your space.
Some more options are wall, ceiling and ground mount patio heaters. These are permanent fixtures and heat larger areas. They are low maintenance and are less affected by thing like wind. Just know this means you may need to purchase additional mounts and switches and have a licensed professional install the infrared heaters in your home. Now let's touch on the average heating area.
All infrared heater manufacturers will give you an estimate for what area the heater can warm. These are determined based on optimal circumstances. That means -on average- low humidity and little to no wind… so basically you need to take the weather in your area into consideration.
If constant wind is a factor where you are installing your patio heater then you may want to consider putting up a wind break. If you need to heat larger areas then you may need to use additional heaters closer together. There is a infrared heater to suit every space.