Kenyans celebrate 'Stella Day' with memes
yesterday was the seventeenth day of May, and as always, the name Stella is trending on social media.
It marks the very day about three decades later, when one Freshley Mwamburi, hit the studios after being heartbroken, by the love of his life, and recorded what turned out to be the hit song 'Stellah'.
That song went on to become an evergreen number, taken to the top by Mwamburi's emotional refrain to Stellah to "come back" to him and sustained at the top of the charts by the cozy place love stories occupy in creative arts and pop culture.
A proof of this is the social media trends of the song every year on May 17, when a majority of Kenyans create all sorts of memes to reminisce the great classic tune.
A lot of Kenyans who will today be humming this song do not know what, other than the ever greenness – or what some may call the staying power— the song means to Mwamburi.
A lot of Kenyans who will today be humming this song do not know what, other than the ever greenness – or what some may call the staying power— the song means to Mwamburi.
He sings of how he funded Stella to go further her studies in Japan but when she returned to Kenya and landed at Jomo Kenyatta International Airport (JKIA) on May 17, 1992, what he saw and felt was unforgettable. The person he'd planned to spend the rest of his life with was accompanied by her lover from Japan.
In January, he remixed the song saying it deserved not just a remix but also a quality music video.
"I would like even the younger generation who might not know the song to know it and enjoy it," he said.
Huddah Monroe arrested in Dubai.
Huddah has never seemed to be in a hurry to come back to Kenya since going to Dubai. At some point, the beauty had hinted at her desire to come back to Kenya but this never came to light. She confirmed selling her house in Nairobi to a fan.
However, Huddah who has been in Dubai for a while now is going through a hard time as she cannot come back to her home country anytime soon.Words have it that she is under arrest following a fraud case
In July 2020, the Huddah cosmetic CEO denied charges of going broke while in Dubai. A source who is in Dubai revealed to the already informed blogger Edgar Obare that she has been hearing rumors that Huddah together with her boyfriend has been arrested.
"When are you coming home,we miss you".
"The world is s my home.I no longer have a specific place I call home.Anywhere that I feel at peace ,am content.And happy that's home for me".
She added "I no longer have a home in Kenya,I sold it".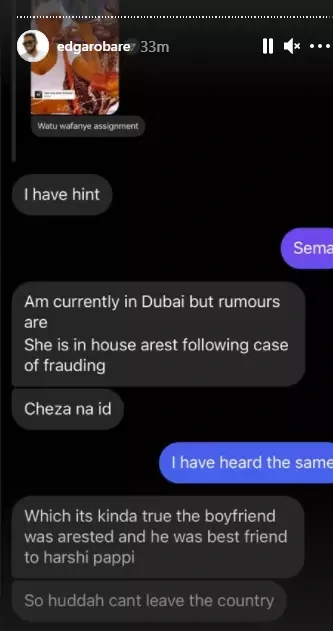 Khloe Kardashian and Tristan Thompson Split Again
Khloe Kardashian and Tristan Thompson have called it quits, again.
A source said that the reality star and professional basketball player recently decided to go their separate ways. They share one child together, 3-year-old daughter True.
News of their most recent breakup comes amid reports that Khloe threatened to take legal action against a woman who is claiming that Tristan fathered a child with her. Khloe is reportedly suing the woman, Kimberly Alexander, for defamation, claiming that she fabricated direct messages to make it look like she and the reality star had a conversation over Instagram.
Khloe's attorney, Lynda B. Goldman of Lavely & Singer Professional Corporation, claimed in court documents to that "a DNA test from one of the nation's top labs confirmed that Mr. Thompson is not the father of [Kimberly's] child."
Additionally, Instagram model Sydney Chase claimed during an April interview that she hooked up with Tristan back in the fall. Tristan has vehemently denied her claims.
Diamond and Zari Hassan set to appear on a reality show on Netflix
Tanzanian superstar Diamond Platnumz and the mother of his two children, Zari Hassan are set to make a debut on Netflix, going by an update shared by Netflix South Africa.
The two are set to feature in an upcoming African reality show called "Young, Famous and African.
On Tuesday, 22 June 2021, Zari Hassan took to social media to share the good news, stating that she is about to take over Netflix.
The upcoming reality show is set to feature a total of 8 African stars, if the posters shared by Netflix is anything to go by.
Chibu Dangote and his Baby Mama will be joining the list of other African stars who have featured on the International Movie streaming platform.