Kivaywa Boys High School: Panic As 3 Security Guards Brutally Killed In A Robbery Attack
In Kakamega County, three security guards manning the property of Kivaywa boys high school have reportedly been killed by unknown criminals in a suspected robbery attack.
One guard who survived the attack is critically injured and was rushed to the hospital.
According to the sources, the criminals who were armed with machetes had sneaked into the school through the fence at midnight.
Apparently, during the ambush, the students were asleep in their dormitories and weren't able to hear the commotions.
No student nor teacher was harmed during the robbery attack. The criminals stole goods of unknown value during the attack.
Police have launched an investigation on the matter to track down the suspects and bring them to book.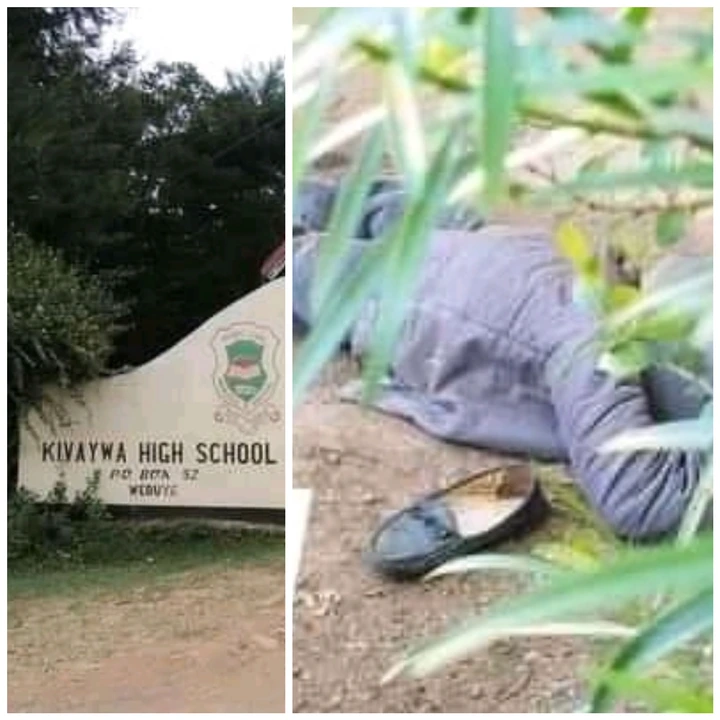 Exciting times for teachers as TSC launches digital leave application system
On Wednesday, December 1, 2021 The Teachers Service Commission automated its leave application and approval process.
Teachers can now apply for leave and have their applications approved online.
"Our leave application and approval process is now automated. You can apply on this link https://hrmis.tsc.go.ke/tm-app/apply_leave," the commission announced.
TSC employed teachers are entitled to a 42 days annual leave, often taken during school holidays.
Female teachers are entitled to 90 calendar days of maternity leave from the date of confinement as their male counterparts get a 10 day leave within the period of their spouse's maternity leave.
Teachers are also allowed a maximum of 15 days compassionate leave to attend to bereavement, sickness, or hospitalization of dependents.
Thika residents staring at huge losses after floods destroyed properties worth millions
Several families in Kisii estate in Thika, Kiambu County will be forced to seek alternative areas to shelter after heavy rain wreaked havoc in the area, flooding their homes.
The last few days heavy downpour that has been witnessed in the area have destroyed properties worth millions of shillings.
According to them, poor and old drainage systems are the major cause of flooding in the area.
Residents now blame political leaders for their misfortunes.
They noted that flooding in the area is a perennial crisis they ought to have addressed a long time ago.
They said that they filled several complaints to both the National and County governments to address the issue but all have fallen on death ears.
"Most of our businesses are now flooded and items therein destroyed. We have lost stock and can not even open the stalls to salvage what has remained," another local added.
They claimed that cases of Arthritic have been on the rise due to the severe cold in the area.
Parents noted that the raging waters on their children's way to school forces them to skip school.
The residents are afraid they might contract various diseases including waterborne diseases such as Typhoid and Bilharzia.
To solve the problem, the residents have vowed to fundraise to enable them to construct modern drainage systems.
Kenyan boy recovers after Uhuru paid for his Sh5 million surgery
Ethan Macharia, penned an emotional letter to President Uhuru Kenyatta in 2020 asking for financial assistance.
The young boy fell off head first from the first floor of an apartment while playing.
Baby Ethan had been stuck in India where he was undergoing treatment when Uhuru paid for his treatment is now a happy boy after recovering.
Doctors performed surgery on baby Ethan and implanted a special device in his heart to stop him from suffering seizures.
The impact of the fall would cause the child up to 40 violent seizures per day.
Kevin Otiende, a close friend of the family, has now revealed that the young boy is back to enjoying normal life with his peers.
"The surgery was successful. He now has a special device implanted in his heart that stops the attacks.
I was thrilled to find him healthy, doing his homework, before we shared a meal.
His life is now fully back to normal. And God, indeed, sits on His throne," Otiende expressed.
The news of President Kenyatta's intervention was announced by Kenya's Embassy in India.
Doctors at the Fortis Hospital where Ethan was admitted said they had attempted to control his seizures with several unsuccessful medications