Mary Queen of Scots' 'irreplaceable' gold rosary stolen in $1.7M castle raid
Police said the castle's burglar alarm went off at 10:30 p.m. local time on Friday and that police were on the scene "within minutes."
But they were not quick enough to prevent the thieves from smashing a display case and stealing several items of "great historical significance," including the gold rosary beads carried by Mary Queen of Scots at her execution, and coronation cups gifted by the queen to the Earl Marshall at the time.
"Other gold and silver treasures" were also taken, but police did not specify the items.
"The rosary is of little intrinsic value as metal, but as piece of the Howard family history and the nation's heritage it is irreplaceable," police said in the statement.
A spokesperson for the trustees of Arundel Castle said while the stolen items have "significant monetary value," they have "immeasurably greater and priceless historical importance."
"We therefore urge anyone with information to come forward to the police to assist them in returning these treasures back where they belong," the spokesperson said.
Police are now looking into whether an abandoned vehicle found on fire nearby is connected to the raid.
Historian Dan Snow described the stolen rosary as "utterly priceless" in a series of tweets on Monday.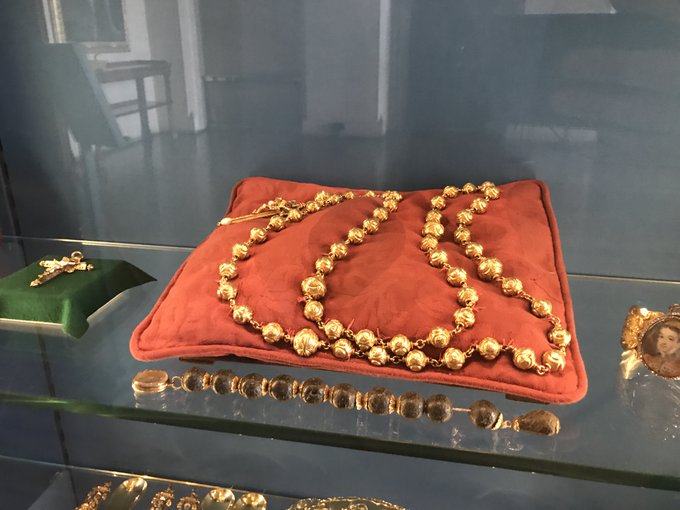 Mary Queen of Scots was executed at 44 on the order of her English cousin, Queen Elizabeth I, in a grisly beheading that took three axe blows to sever her head from her body.
The two queens were rivals throughout their lives as Mary, a Catholic, became a figurehead for opponents to the Protestant rule of Queen Elizabeth I during the English reformation period.
Queen Elizabeth I's father, King Henry VIII, broke with the Catholic Church in order to divorce Katherine of Aragon and marry Anne Boleyn in the early 1530s.
Boleyn's mother was a daughter of the second Duke of Norfolk, and the family's Catholic faith put them frequently in conflict with the Crown following the reformation — the third Duke of Norfolk narrowly escaped beheading by Henry VIII but the fourth Duke of Norfolk was executed in 1572.
Rick Ross & Hamisa Mobetto's Dubai vacation makes headlines in US
rapper and business mogul Rick Ross was spotted hanging out with Tanzanian actress and model Hamisa Mobetto.
The two were together in Dubai at Club Blu where the rapper was performing on Thursday night, November 25.
Word on the street in the US is that the two could be dating after their video made headlines.
"Rick Ross and his rumored boo model Hamisa Mobetto having a good time in Dubai," The Shade Room reported.
Back in September the US rapper was asked about his relationship with the Tanzanian Actress Hamisa Mobetto .
"To be honest, there is a connection but then I'm going to leave it to her to explain the nature of the relationship we share."He responded
"She is such a beautiful person, beautiful spirit and she is a huge entrepreneur and I want to help her take it to the next level."He continued
In the past few months, Ross has been gushing over Ms Mobetto's beauty in almost every photo she uploads, an act that has left many with questions.
Kamene Goro confirms she is now engaged and off the market.
Kiss 100.3 FM presenter Kamene Goro has confirmed she is seeing someone.
While speaking during a sit down with comedian Jalang'o on his YouTube channel, the curvy radio host showed off her engagement ring to prove that she is dating.
The media personality also confirmed the great news through a question and answer session on her Instagram page.
This was after a fan expressed interest in her in a statement that can be linked to a shining ring on one of her fingers.
Kamene wondered why many people believe that she is not dating even though she has been seeing someone for almost a year.
"I'm dating, this is my engagement ring. I don't why people think I'm still single yet I have been dating since January! Men, please stop disturbing now," Kamene said.
Kamene's admission comes a few months after the voluptuous presenter explained she had suffered enough heartaches and was staying away from relationships.
The dating scene hasn't been a bed of roses for the presenter, as she was once in a toxic marriage that she says ended via a phone call.
According to Kamene, she willingly got married to a well-to-do Tanzanian national a man she adored and loved. But things took a turn for the worst amid accusations of infidelity.
Makeda's cookies will name young Dolph's favorite cookie after the late rapper
As for the location that Dolph was murdered at, that will remain closed through the rest of the year as Makeda's continues to mourn with the rest of Memphis, Tennessee. Until then, the cookie shop has created a GoFundMe page aimed to help repair the store, which was damaged in the fatal shooting.
The business wrote that an insurance claim they filed following the shooting was denied because it "was not fire, flood or natural disaster," leading to the creation of the GoFundMe. So far, the Makeda's Cookies GoFundMe has received over $86,000 in donations.
According to reports from WREG, the Black-owned bakery that Dolph frequented before his passing has just reopened its downtown location.
As they reopen their doors, Raven Winton, the operations manager, revealed that they will be renaming the rapper's favorite cookie, the chocolate chip, after him.
Related topics