Nigeria kidnap kingpin killed in a clash with a rival gang
A Nigerian bandit chief who led the kidnapping of hundreds of schoolchildren has been killed in armed clashes with a rival gang, days after reneging on an amnesty deal with authorities, sources said.
Awwalun Daudawa led the abduction of more than 500 students from Government Science Secondary School Kankara last December.
It was one of a series of mass abductions by heavily armed criminal gangs who have become an increasing security challenge in the northwest and central Nigeria.
On Thursday a Zamfara state government official told AFP Daudawa had reneged on a peace pact he made in February and returned to lead his men in the forest.
"Daudawa was killed along with four of his commanders Friday afternoon during a gunfight with a rival gang in Dumburum forest on the border with Katsina state," a Zamfara government official said.
"He led his men on a revenge mission to avenge the death of two of his men by the rival gang during a failed raid on one of his camps last month," said the official.
"He led his men on a revenge mission to avenge the death of two of his men by the rival gang during a failed raid on one of his camps last month," said the official.
In February Daudawa along with six comrades surrendered to Zamfara state governor Bello Matawalle in his office where he handed over weapons, saying he had renounced crime, as part of the amnesty to bandits to end the cycle of violence.
Ambushed and gunned down
But sources said Daudawa only surrendered a fraction of his weapons and maintained contact with his gangs in the forest.
Earlier this month Daudawa left his lodging in Zamfara state capital Gusau on the pretext of meeting some criminal gangs to convince them to accept a government amnesty offer and release some hostages, according to an official.
"Daudawa has been killed along with his four commanders during fighting with the men of rival bandits," a source with deep knowledge on the activities of bandits told AFP.
"He was ambushed and gunned down while trying to take away the herd of the rival gang," said the source.
It was not clear what impact the death of Daudawa would have on the deadly violence cattle thieves and kidnappers have unleashed in northwestern Nigeria.
Some of the Kankara schoolchildren had escaped during the December kidnapping and more than 300 more were released days later after negotiations with local officials.
State authorities always deny any ransom payments were made.
Daudawa, 43, was an armed robber and a cattle rustler before he added gun-running and kidnapping for ransom to his criminal portfolio.
Also read;Zulu Queen Mantfombi Dlamini dies a month after becoming regenthttps://thebigissue.co.ke/zulu-queen-mantfombi-dlamini-dies-a-month-after-becoming-regent/
Mukhisa Kituyi's Nudes Leaked
Presidential Candidate Mukihsa Kituyi is a man under siege.His nude videos were released today by his love, a Mombasa lady by the name Dianna Opemi. Mukhisa, is a presidential aspirant in the 2022 elections, he is said to have assaulted his lover Dianna at a hotel in Nyali, Mombasa, who later on leaked his nude videos.
The lady claims that Mukhisa allegedly assaulted her,
"He pushed me from the bed, and continued kicking me even after I fell on the floor, whereby I ended sustaining injuries on the left knee," she claimed.
Miss Opemi further recorded a statement at Nyali police station, claiming that Mukhisa brutally assaulted her after she refused his sexual advances.
It is now believed that the disagreement that erupted between the two could have attributed to the leaking of the bedroom video on social media.
Cristiano Ronaldo snubbed Coca-Cola. The company's market value fell $4 billion.
As soccer star Cristiano Ronaldo sat down for a press conference at the European Championship Monday,he pushed aside two Coca-Cola bottles placed in front of him.
"Água," he said in Portuguese, picking up a bottle of water and seemingly encouraging others to do the same. "No Coca-Cola."
The simple gesture had a swift and dramatic impact: The soft drinks giant's market value fell $4 billion, highlighting the power and impact that celebrities and influencers can have on the market.
The 36-year-old Juventus star, who has almost 300 million followers on his personal Instagram account, is known for maintaining strict physical and eating regimens and has previously criticized the consumption of soft drinks.
The company's share price dropped from $56.10 to $55.22 quickly after Ronaldo's slight, marking a 1.6 percent fall. The market value of Coca-Cola went from $242 billion to $238 billion, according to the Nasdaq index and the New York Stock Exchange.
The soft-drink manufacturer's shares continued to slide on Wednesday, falling by 1.34 percent to $54.67.
The Union of European Football Associations (UEFA), the governing body for soccer in the region, issued a brief a statement noting that players are offered water, Coca-Cola and Coca-Cola Zero Sugar at press conferences and that they "can choose their preferred beverage."
"Coca-Cola offers a range of drinks to suit different tastes and needs, which are available to players throughout the tournament," the statement added.
A spokesperson for Coca-Cola, an official sponsor of Euro 2020, said in an email sent to the Washington Post that the company "did not have anything further to add," to the UEFA statement.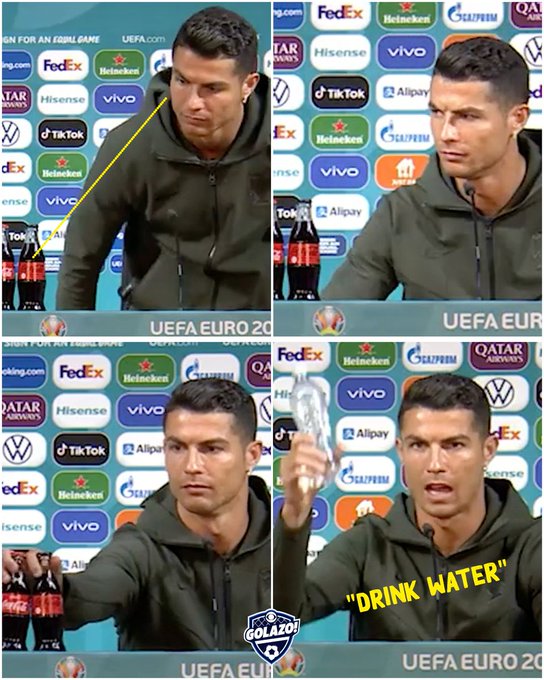 How class 8 dropout John Pameri became a pilot and manager at Lewa conservancy
John Pameri has made a life for himself despite not furthering his education beyond primary school.
The 46-year-old schooled up to Class Eight but today he works as a pilot and head of security at the famous Lewa Conservancy in Laikipia County.
"I don't have university papers, I don't have secondary school papers but I managed to do everything," he says.
Pameri sat for his Kenya Certificate of Primary Education (KCPE) exam at Olarjiju Primary School in Laikipia in 1990 and scored 321 out of the possible 700 marks.
He did not proceed to high school as his parents were unable to raise tuition fees plus the Maasai culture did not value education at the time.
"I waited for my parents to get money to take me to the secondary school level, but they never managed to, so that was the end of my education," he said.
In 1992, he joined Lewa Conservancy as a volunteer with the hope of becoming a ranger in the subsequent recruitment.
"I went across to Lewa Wildlife Conservancy which I walked 100 kilometers from here," Pameri recounted in an interview with Citizen TV.
At Lewa, he went through physical and intellectual training, rising through the ranks to the position of assistant head of security.
Four years later, Pameri enrolled for a natural resource management course at Mpulumanga in South Africa and graduated with a distinction.
Lewa Conservancy later sponsored his pilot training at the Pletermaritz Flight Training Centre in South Africa, and in 2012, he had his first solo flight.
"The communities are really proud of me seeing my life how I have grown up from a local community," Pameri said.
Today, Pameri is in charge of 87 members of staff, including field rangers who are tasked with wildlife management, resolving human-wildlife conflict, security, and escorting guests at the conservancy.
"People speak, but wildlife doesn't. I don't think there is any other job I would do…until my life ends, it's about conservation and wildlife, that is my bottom line," he said.