Senior Politician and ex CS Forced to Flee, Survives Rowdy Crowd After Doing This
According to the toTv47 digital news platform, former Cabinet Secretary (CS)Rashid Echesa was involved in a scuffle with a political rival who was vehemently opposed to the politician's protestation. The former CS has been battling against the current Kakamega Senator Cleophas Malala who he accused of politicizing the acquisition of the sugar miller which he said was the economic lifeline of the region.
The former CS was forced to flee the scene after his bodyguards restrained him from getting physical with the heckler who disrupted him while proceeding to the company's offices accompanied by supporters in motorbikes.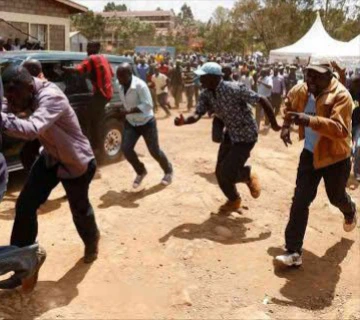 There was a scuffle earlier today after a senior politician from Western region was heckled and forced to flee during a protest march. The incident which happened earlier in the day was the culmination of a 3 day long protest over the proposal by DEVKI billionaire industrialist plans to acquire the defunct Mumias Sugar Company.
22-year-old female terror suspect makes shocking revelations about Alshababb after being arrested
According to a police, OB report number 27/30/11/2021 filed at Songhor police station in Tindiret sub-county.
The 22-year-old Sheril Vugusta Lodenyo was arrested at Kamalambu village in Songhor ward following a tip-off from members of the public.
Sheril, who hails from Chavakali in Vihiga county, told the police that indeed she had links with the Al Shabaab group who she says kidnapped her in 2019 and trained her on conducting their illegal operations.
"The suspect alleged to have escaped through Lamu/Mombasa and headed to her home county where she allegedly stayed until August 2021 and later to Kamalambu to date.
Read also
Thika residents staring at huge losses after floods
Exciting times for teachers as TSC launches digital leave application
Get rid of smelly feet in these 6 easy steps
Information received is that she has been attending recent KDF recruiting centers. Motive yet to be established,"
The suspect was taken to Kapsabet police station for detention before being moved to Eldoret where the Anti Terror Police Unit (ATPU) will pick her from for further processing.
The suspect, who was cohabiting with her boyfriend, is said to have later escaped from the death-dealing terror group after which she retreated to her rural home in Vihiga before moving in with her boyfriend in the Nandi village.
Exciting times for teachers as TSC launches digital leave application system
On Wednesday, December 1, 2021 The Teachers Service Commission automated its leave application and approval process.
Teachers can now apply for leave and have their applications approved online.
"Our leave application and approval process is now automated. You can apply on this link https://hrmis.tsc.go.ke/tm-app/apply_leave," the commission announced.
TSC employed teachers are entitled to a 42 days annual leave, often taken during school holidays.
Female teachers are entitled to 90 calendar days of maternity leave from the date of confinement as their male counterparts get a 10 day leave within the period of their spouse's maternity leave.
Teachers are also allowed a maximum of 15 days compassionate leave to attend to bereavement, sickness, or hospitalization of dependents.
Thika residents staring at huge losses after floods destroyed properties worth millions
Several families in Kisii estate in Thika, Kiambu County will be forced to seek alternative areas to shelter after heavy rain wreaked havoc in the area, flooding their homes.
The last few days heavy downpour that has been witnessed in the area have destroyed properties worth millions of shillings.
According to them, poor and old drainage systems are the major cause of flooding in the area.
Residents now blame political leaders for their misfortunes.
They noted that flooding in the area is a perennial crisis they ought to have addressed a long time ago.
They said that they filled several complaints to both the National and County governments to address the issue but all have fallen on death ears.
"Most of our businesses are now flooded and items therein destroyed. We have lost stock and can not even open the stalls to salvage what has remained," another local added.
They claimed that cases of Arthritic have been on the rise due to the severe cold in the area.
Parents noted that the raging waters on their children's way to school forces them to skip school.
The residents are afraid they might contract various diseases including waterborne diseases such as Typhoid and Bilharzia.
To solve the problem, the residents have vowed to fundraise to enable them to construct modern drainage systems.