Tanzania President Suluhu Hassan Ends Her State Visit In Kenya.
Kenya President Uhuru Kenyatta on Wednesday evening said goodbye to Tanzanian President, Samia Suluhu Hassan, at the Jomo Kenyatta International Airport (JKIA).
President Suluhu was in Kenya for a two day State visit which came to an end on Wednesday after addressing a joint session of Parliament.
During her short stay, the Tanzanian Head of State also held talks with President Kenyatta during which they signed a raft of new agreements, besides also attending a Kenya-Tanzania business forum.
Kenya and Tanzania agreed to eliminate barriers hindering the smooth flow of trade and people between the two East African nations.
The decision was arrived at on Tuesday at State House, Nairobi during bilateral talks led by President Kenyatta and President Suluhu.
A joint team of experts will be set up to address the disjointed enforcement of cross-border Covid-19 containment protocols, one of the most pronounced non-tariff trade barrier between the two nations.
"Just as His Excellency the President has said, we have agreed that our Health Ministers need to sit down and come up with a structured system of testing our people at the border points to allow easy movement of our people so as to do their businesses," President Suluhu told the media at State House, Nairobi.
The two presidents noted that Kenya and Tanzania need to develop modalities for mutual recognition of COVID-19 test results, noting that the lack of harmonized protocols has hampered free flow of goods and people.
"First, we noted that trade between Kenya and Tanzania is facing some administrative challenges. They include non-tariff barriers and other restrictions which are frustrating trade and investment between our two countries," President Kenyatta said.
You can also read: Covid-19 Variant From Indian Detected In Kisumu, Kenya
High Court Judges Aggrey Mchelule and Said Chitembwe Arrested
The two judges are accused of receiving bribes for various cases they previously handled.
In a statement on Thursday, the director of public prosecutions Noordin Haji said he was not aware of the reason leading to their arrests and questioning, and that his office had not received any files concerning them.
Mchelule is among President Uhuru Kenyatta's "Rejected Six", who were denied promotions due to "integrity issues", according to the Head of State.
President Uhuru Kenyatta appointed 34 judges out of 41 who were recommended by the Judicial Service Commission (JSC) for an appointment, citing intelligence reports indicting them on a number of issues that he did not disclose.
In June, Chief Justice Martha Koome appointed Justices Justice James Wakiaga, George Nduru, and William Musyoka to hear and determine two petitions challenging the decision of President Uhuru Kenyatta's refusal to appoint six judges.
'I'm the father,' Senate Speaker Lusaka admits after woman sues him for Ksh.25M
Senate Speaker Kenneth Lusaka has admitted to be the father of an unborn child he sired with a woman who sued him last month, demanding Ksh.25 million in child support.
During the mention of the case on Wednesday, the court was told that Lusaka had agreed to cater for the child's pre-natal care adding that other issues would be settled once the baby is born.
"It's not correct that my client can't make prenatal expenses ….that has been sorted …And we are saying let's wait for the baby to be born… who can buy a house within seven days?" said the Speaker through lawyer Peter Wanyama.
The woman, through lawyer Danstan Omari, sued the speaker and is seeking child support of Ksh.200,000 monthly or a lump sum pay of Ksh.25 million. She had claimed that Lusaka had declined to take up his responsibility by providing for her and the needs of the unborn child.
However, Lusaka through his lawyer Peter Wanyama told the court that there were a couple of issues including accommodation expenses which have to be addressed.
The court was also told that parties in the case have engaged in serious discussion with a view of entering a final consent.
President Kenyatta commissions five new hospitals in night operation
The hospitals launched by the Head of State in the four-hour night operation were two-level 2 hospitals at Gichagi in Kangemi and Gatina in Kawangware as well as level 3 hospitals in Mukuru Kwa Rueben, Tassia Kwa Ndege, and Our Lady of Nazareth in Mukuru Kwa Njenga.
"The dispensaries and level 2 health facilities should operate 24 hours services in order to decongest Kenyatta National Hospital and Mama Lucy Hospital. Instead of someone using money to go and seek medical services at Kenyatta National Hospital, they need to access these services at the facilities which are near them," President Kenyatta said.
Further, the Head of State said the operation was aimed at enabling him to assess the population of city residents, especially those in informal settlements where the hospitals are located, seeking healthcare at night so as to enable the Government to resource them adequately.
Addressing journalists who accompanied him during the night operation at State House, Nairobi after the exercise, the President said he chose to commission the new hospitals at night so as to adhere to Covid-19 containment protocols.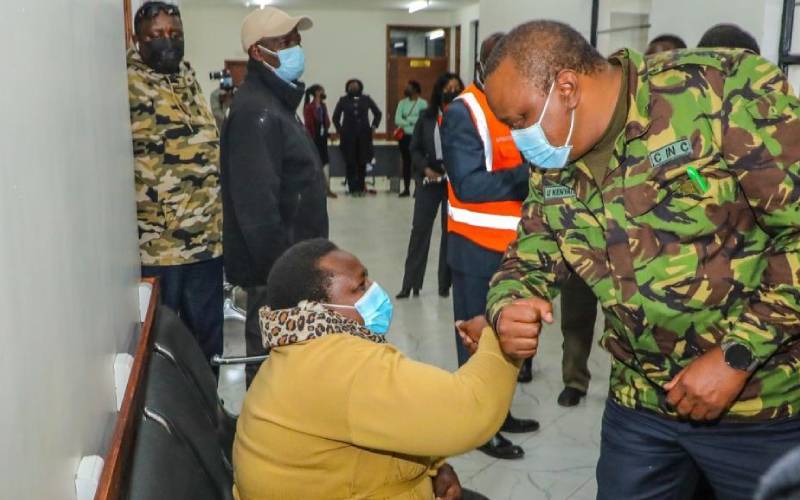 Besides opening the new health facilities, President Kenyatta said the night tour was aimed at inspecting the ongoing road construction projects within the informal settlements saying so far a total of 400kms had been completed while another 450kms was underway.
"The other thing we wanted to see was the roads. We embarked on a program where we are doing 400kms of roads in our inner cities. We have been able to travel in those informal settlements without challenges. These are roads we have been constructing over the past one year and we are now constructing 450kms and we want to increase the same with another 300kms in this financial year," the President said.
The Head of State said the Government is keen on providing quality services to all Kenyans regardless of their status in life and pointed out that ongoing city sewerage expansion works, financed by the African Development Bank, will also benefit Nairobi slums.