Terence(ngaleta) biography, background, career, marriage, children, and Struggles
Lawrence Macharia, popularly known as Terence Creative, is arguably one of the best online comedians in Kenya. And like his stage name, the entertainer is indeed creative if his videos on his social media platforms and YouTube channel are anything to go by. His latest video, Wash Wash Business-Papa Fred "Kemikal" Ngamwaya, has been trending at number one on YouTube. In the video, Terence plays a Congolese fraudster who uses a certain expensive Kemikal to print money and cons his victims in the process.  Here is the story of Terence Creative. 
Many know him for his role as a creative on the Churchill Show. In a past interview, the funnyman revealed that he did menial jobs like gardening and at one time he was employed as a watchman to make ends meet. The comedian, who teams up with his wife Chebby on most of his projects, joined the Kenya National Theatre where he took various roles in set book plays before he finally joined the Churchill Show. 
After working as a creative for a while, he began doing his own comedy skits. He adopted the Kamami character which blew up. He was no longer just behind the scenes. He used his wife's dera as a major prop. The witty man then proceeded to create content that resonated well with Kenyans, especially women. He then began playing a caretaker, a role he executed perfectly. He got the inspiration for the character from a previous caretaker of their rental house.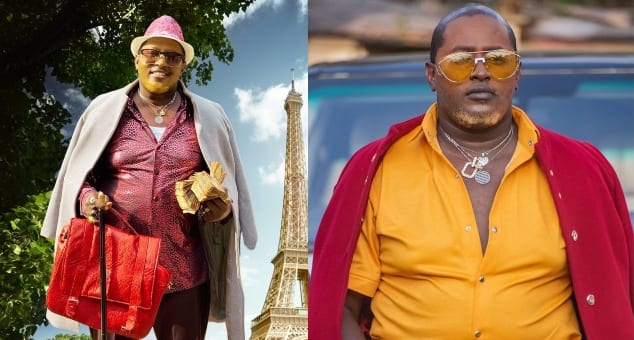 The comedian met his wife on the Churchill Show in 2013. Milly had just begun working as a backstage manager while Terence was already an old face at the show. They began dating on and off before finally moving in together. 
In 2017, with the help of friends, he blocked Kimathi street and proceeded to propose to Millicent. This was followed by a traditional ceremony, Koito, in Milly's home in Rift Valley. The ceremony was filled with food, laughter, and dancing and became the talk of the town in the area. They recently revealed on their YouTube channel that Terence was robbed a day before the traditional ceremony, almost jeopardizing the event. Later, he struggled to pay dowry and did not complete payment on the agreed time. 
The YouTuber has often shared his earlier struggles with addiction to gambling and smoking with a view of encouraging others.
Terence was a serial gambler who lost millions of thanks to this addiction. He said even while he won big at times, he ended up losing it all. He would win 650k and want to make it a million, win a million, and want to make it one and a half million. At times he would stay in a casino past midnight and on so many occasions Milly had to go looking for him. She said that it reached a point where she'd arrive and everyone would know she was there for her husband.
Apart from gambling, he also had a smoking problem. In an interview with Amina Rabar on NTV, he even admitted to smoking marijuana once and slapping his wife while high on the drug. He said smoking even affected their intimacy as a couple since he would often smell of tobacco, something that annoyed his partner. He was later able to quit.
Rapper Khaligraph Jones battles fresh deadbeat dad claims
Khaligraph's baby mama Cashy, also a rapper, and whose real name is Karimi Muriungi appeared to finger his former bae for not supporting their child.
Cashy suggested in a Facebook post that his baby daddy would use the dawn to dusk curfew imposed by the government as reasons for not providing.
The curfew was lifted by President Uhuru Kenyatta on October 20, 2021.
"I am actually happy the curfew has been lifted because artists can go back to earning from night gigs!" she pointed out.
"In fact, help me pray for an overflow of events so that your fave rapper will have zero reasons to claim he can't afford child maintenance its been so hard bana," she added.
In a tweet, Cashy wrote a similar message, saying she wants her child to go to an expensive international school.
Last year, Cashy again accused Khaligraph of failing to support his child.
"Meanwhile, I'm not smart enough to win some battles on my own, and so I learn and I get stronger. The law is uneven, but some aspects of it have to be fair if not immediately, then one day.
She has also accused him of being verbally and physically violent.
90-year-old's dream comes true after he got an audience with Uhuru.
Miusician Paul Mutonga alias wanganangu performs for President Uhuru Kenyatta during the 2021 Mashujaa Day luncheon.
It was his dream to play for Uhuru Kenyatta which came true on Wednesday when he performed for him at the Mashujaa day luncheon in kirinyaga County . He is famed for the popular kikuyu song known as Ngurumo ya sabasaba.
In 2016, the nonagenarian spoke to reporters conveying that his only dream was to perform before the only Kenyan president he had never entertained – Uhuru, since he already entertained former Presidents Jomo Kenyatta, Daniel Moi and Mwai Kibaki in his heydays.
President Kenyatta was seen singing along as Wanganangu performed with his accordion at the sidelines of the luncheon.He would later present Wanganangu with a title deed as a gift in response to the musician's grievance.
The 90-year-old claims that he has never received any payment from the Music Copyright Society of Kenya despite having two popular albums and enrolling as a member of the society.In 2016 he told repoters that he was living in poverty and struggling to find gigs where he could play and earn a bit of cash.
Being advanced in years, the elderly Benga musician stated, at the time, that he and his wife were finding it hard to keep up.
Wanganangu also earned himself a Head of State Commendation during the 2021 celebrations
Vera Sidika & Mauzo welcome a bouncing Baby girl named Asia Brown .
socialite Vera sidika and husband Brown mauzo have welcomed a bouncing baby girl into their family named Princess Asia Brown.
The couple mentioned that baby Asia was born at exactly 10:21am on October 20, 2021 at a city Hospital.
"20.10.2021 at 10:21am 🎊A princess was born🎊. Asia Brown @princess_asiabrown
You will always be the miracle that makes our life complete.
Mauzo put up a photo posing beside his wife in a Hospital bed, saying he is happy to welcome a new member into their family.
"Thank you God for this blessing 20:10:2021 10:21AM @princess_asiabrown" wrote Brown Mauzo.
The news of Vera Sidika and Mauzo welcoming a newborn into their family was received well by their social media in-laws.
Many could not help it but gush over the couple with lovely comments.
Ms Sidika's safe delivery come days after she threw a lavish Baby Shower that has been the talk of town for the past one week.
On Tuesday, Vera also mentioned that she had received her imported organic Baby Diapers for the United States of America.