Lawrence Macharia, popularly known as Terence Creative, is arguably one of the best online comedians in Kenya. And like his stage name, the entertainer is indeed creative if his videos on his social media platforms and YouTube channel are anything to go by. His latest video, Wash Wash Business-Papa Fred "Kemikal" Ngamwaya, has been trending at number one on YouTube. In the video, Terence plays a Congolese fraudster who uses a certain expensive Kemikal to print money and cons his victims in the process.  Here is the story of Terence Creative. 
Many know him for his role as a creative on the Churchill Show. In a past interview, the funnyman revealed that he did menial jobs like gardening and at one time he was employed as a watchman to make ends meet. The comedian, who teams up with his wife Chebby on most of his projects, joined the Kenya National Theatre where he took various roles in set book plays before he finally joined the Churchill Show. 
After working as a creative for a while, he began doing his own comedy skits. He adopted the Kamami character which blew up. He was no longer just behind the scenes. He used his wife's dera as a major prop. The witty man then proceeded to create content that resonated well with Kenyans, especially women. He then began playing a caretaker, a role he executed perfectly. He got the inspiration for the character from a previous caretaker of their rental house.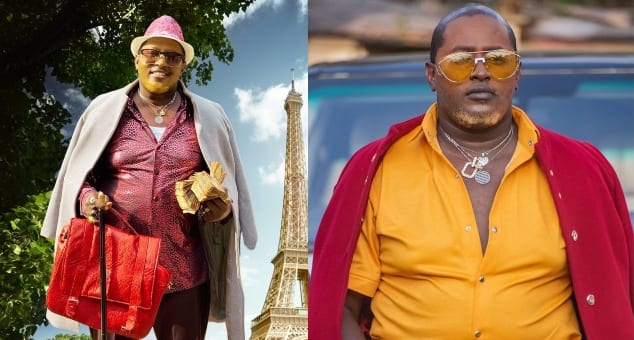 The comedian met his wife on the Churchill Show in 2013. Milly had just begun working as a backstage manager while Terence was already an old face at the show. They began dating on and off before finally moving in together. 
In 2017, with the help of friends, he blocked Kimathi street and proceeded to propose to Millicent. This was followed by a traditional ceremony, Koito, in Milly's home in Rift Valley. The ceremony was filled with food, laughter, and dancing and became the talk of the town in the area. They recently revealed on their YouTube channel that Terence was robbed a day before the traditional ceremony, almost jeopardizing the event. Later, he struggled to pay dowry and did not complete payment on the agreed time. 
The YouTuber has often shared his earlier struggles with addiction to gambling and smoking with a view of encouraging others.
Terence was a serial gambler who lost millions of thanks to this addiction. He said even while he won big at times, he ended up losing it all. He would win 650k and want to make it a million, win a million, and want to make it one and a half million. At times he would stay in a casino past midnight and on so many occasions Milly had to go looking for him. She said that it reached a point where she'd arrive and everyone would know she was there for her husband.
Apart from gambling, he also had a smoking problem. In an interview with Amina Rabar on NTV, he even admitted to smoking marijuana once and slapping his wife while high on the drug. He said smoking even affected their intimacy as a couple since he would often smell of tobacco, something that annoyed his partner. He was later able to quit.