The Real Story Of 'American Gangster' Drug Kingpin Frank Lucas
As the Vietnam War raged in the late 1960s and early ′70s, potent heroin called "Blue Magic" flooded into Harlem and Newark from a mysterious Southeast Asian connection. It destroyed lives, and it turned a black gangster named Frank Lucas into one of America's most notorious drug kingpins.
His life of crime — rising from poverty to riches in an enterprise that succeeded beyond his wildest dreams — was portrayed in 2007 in Ridley Scott's film "American Gangster," with Denzel Washington as Mr. Lucas and Russell Crowe as the prosecutor who brought him down.
The movie was a Hollywood composite of fact and fiction, depicting Mr. Lucas as a daring, imaginative criminal who set up the Asian connection, smuggled heroin in the coffins of service personnel killed in action and broke into the Mafia's long domination of narcotics in the New York area — all claims made by Mr. Lucas that have been challenged by investigators and journalists.
Even so, the story of Frank Lucas, who died on Thursday night in Cedar Grove, N.J., at 88, is a larger-than-life tale of ambition, organization, and ruthless brutality.
At the peak of his empire, he claimed he was taking in $1 million a day, had $52 million stashed in Cayman Islands banks and $300 million in stockpiled heroin, and owned office buildings in Detroit, a cattle ranch in North Carolina and apartments in New York, Miami, Los Angeles, and Puerto Rico.
It all collapsed in 1975. Arrested at his New Jersey home, where $584,000 in cash was found, he was convicted of federal drug charges in New York and state charges in New Jersey and sentenced to 70 years in prison.
His death was confirmed by his nephew Aldwan Lassiter in a telephone interview.
Mr. Lucas's survivors include four daughters, Francine Lucas-Sinclair and Ruby, Betty and Candace Lucas; two sons, Frank Jr. and Tony Walters; many grandchildren and great-grandchildren; two sisters, Mattie Lassiter and Emma Moye; and three brothers, Ezell, Lawrence, and LeVon Lucas. His wife, Julie, and another son, Ray, died before him.
Richard M. Roberts, who led the prosecution of Mr. Lucas in New Jersey, had befriended him in recent years but was under no illusions about what he did long ago. "In truth," Mr. Roberts told The New York Times in 2007, "Frank Lucas has probably destroyed more black lives than the K.K.K. could ever dream of."
Frank Lucas was born in La Grange, N.C., on Sept. 9, 1930, to Fred and Mahalee (Jones) Lucas. He had almost no formal education, and as a boy he mugged drunks. At 15 he assaulted a man, stole $400, and fled to New York. He was soon gambling and selling drugs in Harlem; his crimes later escalated to armed robberies.
He established street credibility in 1966 by shooting a notoriously tough drug dealer on a crowded sidewalk four times in the head. "Bam! Bam! Bam! Bam!" he told Mark Jacobson for a 2000 New York magazine profile that was a basis for "American Gangster." He was never prosecuted for that crime, which he later denied committing.
But he had caught the eye of Ellsworth Johnson, who controlled gambling and extortion rackets in Harlem. Mr. Lucas claimed that Mr. Johnson, who was known as Bumpy, became his mentor. Others disputed this. But after Mr. Johnson died in 1968, Mr. Lucas developed his lucrative criminal enterprise.
In accounts to the authorities, he said that to break the Mafia monopoly on heroin supplies, which were sold in Harlem and Newark by black dealers, he flew to Thailand and met Leslie Atkinson, known as Ike, a North Carolinian married to one of Mr. Lucas's cousins. He said that Mr. Atkinson, who ran a Bangkok bar and sold drugs to black soldiers, agreed to help.
Mr. Atkinson later disputed Mr. Lucas's account; the heroin, he said, was smuggled in teak furniture in an operation he controlled. Ron Chepesiuk, the author of the book "Superfly: The True Untold Story of Frank Lucas, the American Gangster" (2007), contended in a 2008 article in the online journal New Criminologist that Mr. Atkinson, not Mr. Lucas, had made the connection. He also quoted investigators as saying that many of Mr. Lucas's claims were bogus.
His "Blue Magic" sold primarily on West 116th Street, between Seventh and Eighth Avenues, and the area became an open supermarket for drugs.
Investigated by task forces of federal, state, and city authorities in New York and New Jersey, Mr. Lucas was arrested in a raid at his home in Teaneck, N.J., on Jan. 28, 1975. Despite the murders of two witnesses who had testified against him before a grand jury, Mr. Lucas was convicted in federal court in New York and in Essex County, N.J.
His cooperation in a wider inquiry led to his release in 1982. He was convicted of new drug charges in 1984 and imprisoned until 1991.
His illicit assets were confiscated by the government in the 1970s, and he lived anonymously in the federal witness protection program for years. He was a paid consultant for "American Gangster." With Aliya S. King, he wrote an autobiography, "Original Gangster," published by St. Martin's Press in 2010.
Living in Newark and using a wheelchair in recent years, he professed remorse for his crimes and helped his daughter in an organization that aided the children of imprisoned parents. He promised to use the proceeds from his book to promote education, and dedicated the book to his family and to "all the kids who will read it."
"Please learn from my mistakes," he admonished young readers. "Stay in school, finish high school and earn the highest degree in education that you can. This is the way to go in life."
5Coolest Lighters to Keep on Hand
Let's look to upgrade from those cheap, multicolored gas station lighters that you may have stashed away in a junk drawer. Those work in a pinch, but ultimately are disposable. The lighters in this post are durable and able to work in a variety of conditions. It's unlikely that they'll fail you if take care of them, and some even offer great design. Let's find the right one for your needs with our list of the best lighters.
Zippo brass lighter
Durable and refillable, this beautifully designed lighter harks back to the glory days of old Hollywood. Introduced in 1932 and popularized by GIs in World War II, this is a design that has been well-proven over time. This everyday lighter offers windproof lighting with that distinctive Zippo click to let you know it's working. Snap the top back on to extinguish the flame safely.
Q&G Dual Arc Rechargeable Lighter
Most of the time, you just need a spark. This fuel-free choice uses a plasma arc as the "spark." Recharge the lithium-ion battery using the included USB charger. The housing is waterproof, windproof, and impact resistant. Plus, it lights even at high altitudes without having to make adjustments.
Zippo Windproof Lighter
With a slim silhouette and durable steel housing, Zippo's windproof lighter is good to have when conditions get tough. It'll spark no matter the conditions, making it great for camping or outdoor activities. Zippo's lighter fluid provides a smooth, reliable flame. Replace the wick and occasionally the sparking wheel to keep the lighter in top shape for a lifetime.
S.T. Dupont Minijet Chrome Grey Torch Flame Lighter
Sleek and well-designed, this torch-style lighter fits easily into a jeans pocket. Click the sidebar ignition switch, and you'll get a uniform flame in all orientations, even upside down. The company even offers leather cases as additional accessories to protect your investment. It works in any weather condition, even when it's wet or windy. The strong flame makes it easy to ignite thicker or denser materials such as cigars.
Limei Mini Thumb Lighter and Knife Set
This is quite a conversation piece! The miniature lighter features a steel- and copper-plated housing with a wick. It uses kerosene as fuel, which you'll need to purchase separately. The mini lighter and the knife fit into a keychain for portable use. It's best for indoor use, but can be used outdoors in a pinch, even in windy conditions.
tips on handling stress and anxiety
according to the anxiety and depression association of America, 16.1 million adults are affected by depression. Here are some of my tips that will help you deal with stress and anxiety but before you should be able to know the meaning of stress and anxiety.
Stress
What is the meaning of stress, a state of mental or emotional strain or tension resulting from adverse or demanding circumstances?
Anxiety
A mental health disorder is characterized by feelings of worry, anxiety or fear that are strong enough to interfere with one's daily activities.
After now knowing the meaning of both terms now you are ready to learn the 8 tips of handling them,
Learn what triggers your anxiety
Once you discover your triggers, you can work towards preparing and reducing them, work, school, or something around you can be the things that triggers your anxiety. The best way to deal with anxiety is to write a journal when you feel stressed or anxious and follow the pattern
Talk to Someone
It's very important to share your feelings with someone who you trust instead of keeping to your self or even you can talk to a physician or therapist for professional help they are equipped to help you manage the unique challenges of life
Take a time out.
Going for a walk listening to music, meditating sometimes helps you to clear your head especially when stress is so high. By isolating yourself from stressful occasions, you will attain sight and your mind will clear.
4. Practise muscle relaxation techniques
This technique helps you to focus on yourself and release the tension you are holding in your body. Gradually relax your muscles over the time it takes to count to ten, then take a deep breath. You can say relax as you relax.
4. Focus on the present
Feeling stressed or anxious often coincides with dwelling on the past or worrying about the future, the best way is to focus your mind on the present moment and you will feel a little relaxed.
Avoid drugs, alcohol and stimulants
Stimulants excite your nervous system by making them work faster and harder. Stimulants can worsen your anxiety, the best way is to avoid them and it will help you control your anxiety. Some of the stimulants are caffeine[which is found in tea], nicotine[found in tobacco products like cigar
ete]and drugs such as cocaine.
GO TO BED EARLY
Mental health and good sleep arte both linked in reducing your stress and anxiety. Make sure you have a healthier sleep habits and get to bed earlier. The anxiety relief techniques must be your favorite
PRACTICE MINDFULNESS
Mindfulness is focusing on what you are experiencing, feeling, or thinking in the present moment. Try your best to pay attention to what's around you. This is the best technique to deal with anxiety and stress.
Take Control
One problem-solving technique involves writing down the problem and coming up with as many possible solutions as you can. Decide on the good and bad points of each one and select the best solution. Write down each step that you need to take as part of the solution: what will be done, how will it be done, when will it be done, who is involved and where will it take place.
World's poorest Countries
Niger
A combination of a GNI per capita of $906, life expectancy of 60.4 years, and a mean 2 years of schooling (against an expected 5.4) lead to Nigeria topping the UN's human development report as the world's poorest country. World Bank data from 2014 estimate 44.5% of the country's population of 21.5 million living in extreme poverty.
Concern has worked in Niger for 16 years, helping communities face several daunting development challenges, which are exacerbated by terrorist incursions, migration, climate change, and excessive population growth. Poverty manifests in Niger through high levels of food insecurity, illnesses including endemic malaria, and poor access to services including water and sanitation. Crises around agriculture have compounded into hunger and nutrition issues and have affected much of the Nigerien population in the last 20 years, jeopardizing the lives of millions of people. This has led to three major crises in the last 10 years.
South Sudan
The Republic of southern Sudan gained independence in July 2011, but has experienced a long history of conflict, displacement, and deepening humanitarian needs. As of 2016, the World Bank estimates over 82% of the South Sudanese population are living in extreme poverty. While mean years of schooling are comparable to expected years (4.8 and 4.9 years, respectively), life expectancy is just 57.3 years and GNI per capita is $963. Widespread displacement puts untold pressure on people's ability to cope, with over 2 million South Sudanese refugees living abroad and another 1.74 million internally displaced.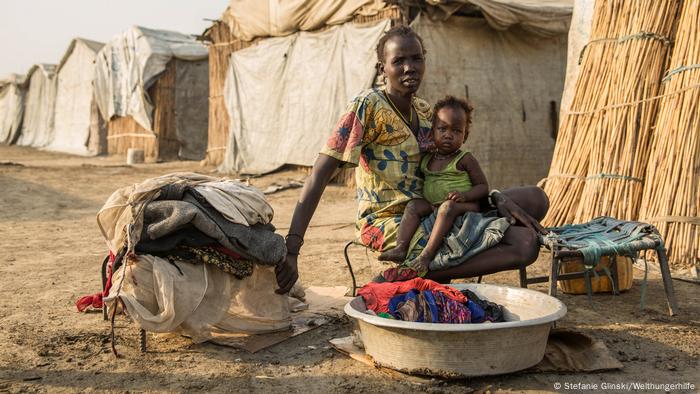 Concern's work in South Sudan has gone hand-in-hand with the country's timeline. In response to the growing needs, we provide emergency, resilience and long-term development programming.
Chad
Despite a $4 billion pipeline that links the country's oil fields to coastline terminals,Chad is one of the world's poorest countries thanks to poor infrastructure and conflict (most notably from the militant group Boko Haram). Ongoing conflict and the effects of climate change mean that nearly 48% of Chadians live in a state of economic vulnerability (per World Bank data from 2011). The country's per capita CNI is $1,750 and its average life expectancy is 53.2 years. Most children receive a mean of 2.3 years of schooling (compared to the expected 8 years).
Concern has worked in Chad for 12 years, and in the last 2 years we've stepped up our efforts in an already-precarious country following added aggravation that has left 4.7 million people in need of humanitarian assistance. We are responding to the humanitarian needs of displaced populations in the Lake Chad area, implementing health and nutrition programmes to deliver life-saving assistance. Our work in the Sila region of eastern Chad focuses on building community resilience to counter potential disasters.
Burundi
The Republic of Burundi has been in conflict consistently since gaining independence from Belgium in 1962. Culminating in civil war in 1994, the conflict has left nearly 65% of the population living in extreme poverty (according to 2014 data from the World Bank). Its GNI per capita is a mere $702, with a life expectancy of 57.9 years. Most children only complete 3 years of schooling, against an expected education of 11.7 years.
We've worked in Burundi since 1997. Our current focus is programs around health, nutrition, and livelihoods. Concern's community-based health and nutrition work has been successful here, especially with improving the nutrition and overall health of those excluded from the national health system. Additionally, we place a high priority on maternal and child health in Burundi. With 740 deaths per 100,000 live births, the country is one of the most dangerous places in the world to have a child.
Mali
The fourth-largest country on the African continent, Mali's capital of Bamako once flourished as a trading post. Today, however, the country (which gained independence from France in 1960) has a GNI per capita of $1,953 and a life expectancy of 58.5. Ongoing war and conflict mean that the mean years of schooling in the country is just 2.3 (compared to an expected 7.7 years of schooling). The World Bank's most recent data from 2009 reveal that over 41% of the population lives below the poverty line.
Burkina Faso
Bordered by both Mali and Niger , Burkina Faso is another former French colony that has suffered conflict and coups following its independence in 1960. Drought has also plagued the country, resulting in a mean 1.5 years of schooling compared to the expected 8.5 years. Burkina Faso's GNI per capita is $1,650, with a life expectancy of 60.8. The World Bank's 2014 data indicate just over 40% of the population living in poverty.