The unknown life of Orie Rogo Manduli
She was also the first woman to head the Non-Governmental Organization (NGO) council.
After working at the council for a while, Rogo refused to step down as the chairperson, despite numerous calls for her resignation. She barricaded herself in the council's offices and refused to resign.
In political circles, her name stands out for controversy, sometimes being regarded a political activist or a rebel without a cause.
Occasionally, Manduli has contested in some grueling elections, where she has been called names, beaten or her property destroyed. During the 2007 general elections, she was physically assaulted after a heated argument at her party's function. Her first marriage, which she describes as rocky, ended in a bitter divorce and completely changed her perception on marriage. "I was still very young. I received no financial assistance from him (ex-husband) and had to toil day and night to take care of my family."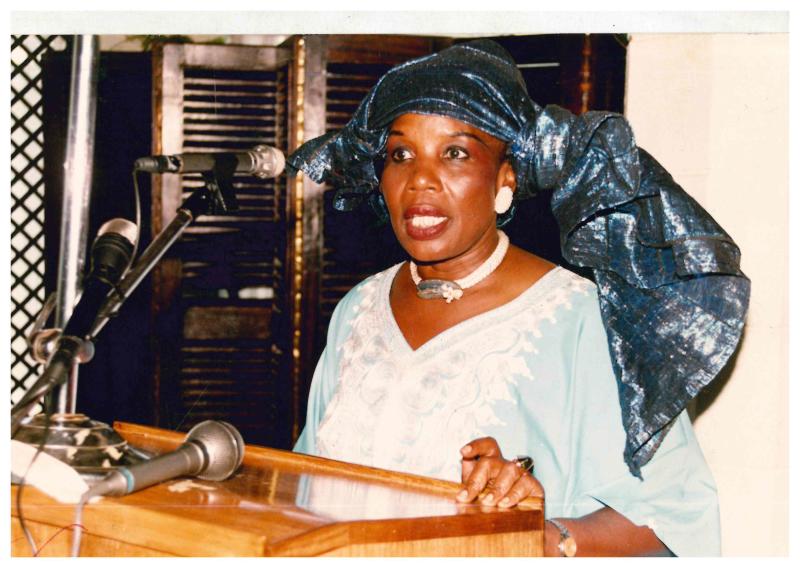 "I will not let my daughters marry without prenuptial agreements," she says adding that lazy men will take advantage of hardworking women. "Men cannot be trusted to take care of the children after a woman passed on due to their polygamous nature."
Armed with lessons well learned from her first marriage, she later got married to Misheck Norman Manduli, a descendant of the Lunda dynasty, one of Zambia's royal families. Her second marriage seemed demanding, but she loved every moment. She got one son from her second marriage before her husband passed on in 2003. She tries to fill the void left by her late husband through reading books – particularly biographies and autobiographies. To her, this is the best way to keep up to date, speak and write well.
But it is her signature headgear that completes her look. Without it, she says it is as good as seeing a bride without makeup on her wedding day.
The vocal Manduli last appeared on Citizen TV's JKL show, Wednesday, May 17, 2017.
Ngina Kenyatta gives birth to president Uhuru's third grandchild
News reaching us from the grapevine is that president Uhuru Kenyatta's daughter was at a city hospital yesterday to give birth.
Our source who works at the hospital said, "Ngina Kenyatta is giving birth there. She's already at the hospital."
Her mother, first lady Margaret Kenyatta, was also spotted at the hospital yesterday evening.
Ngina Kenyatta has not been seen in public for many months prompting speculation as to her whereabouts. The interesting news is that, late last month Ngina got married to the son of a famous business tycoon.
Former CS Wario sentenced to 6 years in jail or pay Ksh.3.6M fine
The former Cabinet Secretary risks up to 6 years in prison if the fine is not paid.
Hassan Wario, the former Sports Cabinet Secretary, has been fined Ksh.3.6 million by a Nairobi court after being found guilty of corruption, abuse of office, and misappropriation of funds during the 2016 Rio Olympics.
The former Sports CS was charged with 4 counts, the first count is engaging in a project without prior planning contrary to Section 45 (2) (c) as read with sections 48 (1) of the Anti-Corruption and Economic Crimes Act No. 3 of 2003.
The other three counts were abuse of office contrary to Section 46 as read with Section 48 of the Anti-Corruption and Economic Crimes Act No. 3 of 2003 with particulars that he improperly conferred a benefit on three persons by including them on the list of delegation to Rio, Brazil for Olympic Games 2016.
The magistrate noted that there was wastage of resources adding that the budget for the games needs to be tailored. She directed that not everyone involved in the planning should travel.
The former Sports CS was charged with 4 counts, the first count is engaging in a project without prior planning contrary to Section 45 (2) (c) as read with sections 48 (1) of the Anti-Corruption and Economic Crimes Act No. 3 of 2003.
World remembers 9/11 as Biden joined by Obama and Clinton mark America's darkest day
Two decades after hijacked airliners smashed into New York City's World Trade Center and the Pentagon outside Washington, America and the world are honouring the nearly 3,000 lives lost.
It is also a day to reflect on how the trauma of September 11, 2001, helped to shape modern society.
The centrepiece of events sees the US President visiting three sites associated with the attacks.
He is currently at ground zero in lower Manhattan at the September 11 Memorial, where crowds have lined the streets to the sounds of the national anthem performed by the Young People's Chorus of New York.
Bagpipes were then played before a moment of silence was observed at 8.46am (GMT 1.46pm) – the time American Airlines Flight 11 crashed into the North Tower.
After that, family members began reciting the names of 2,977 victims, an annual ritual that will last four hours.
This was broken up by emotional speeches, as well as similar silences to mark the second plane – United Airlines Flight 175 – hitting the South Tower 18 minutes later.
And then for when American Airlines Flight 77 struck into the western façade of the Pentagon in Arlington, Virginia at 9.37am (2.37pm GMT), and United Airlines Flight 93 – which was heroically crashed by passengers who regained control – at 10.03am (3.03am GMT).
In video footage captured by the Mirror's Andy Lines, a fire engine was seen incredibly being dispatched on an emergency call just two minutes after the first silence was observed.
The crew were seen heroically racing out from FDNY Engine 28/Ladder 11, just as the brave firefighters did from the same station 20 years ago – almost to the minute.
Later on, Biden will go to the Pentagon and to Shanksville, Pennsylvania, where Flight 93 crashed.
The remembrances have become an annual tradition, but today takes on special significance.