World's poorest Countries
Nigeria
A combination of a GNI per capita of $906, life expectancy of 60.4 years, and a mean 2 years of schooling (against an expected 5.4) lead to Nigeria topping the UN's human development report as the world's poorest country. World Bank data from 2014 estimate 44.5% of the country's population of 21.5 million living in extreme poverty.
Concern has worked in Niger for 16 years, helping communities face several daunting development challenges, which are exacerbated by terrorist incursions, migration, climate change, and excessive population growth. Poverty manifests in Niger through high levels of food insecurity, illnesses including endemic malaria, and poor access to services including water and sanitation. Crises around agriculture have compounded into hunger and nutrition issues and have affected much of the Nigerien population in the last 20 years, jeopardizing the lives of millions of people. This has led to three major crises in the last 10 years.
South Sudan
The Republic of southern Sudan gained independence in July 2011, but has experienced a long history of conflict, displacement, and deepening humanitarian needs. As of 2016, the World Bank estimates over 82% of the South Sudanese population are living in extreme poverty. While mean years of schooling are comparable to expected years (4.8 and 4.9 years, respectively), life expectancy is just 57.3 years and GNI per capita is $963. Widespread displacement puts untold pressure on people's ability to cope, with over 2 million South Sudanese refugees living abroad and another 1.74 million internally displaced.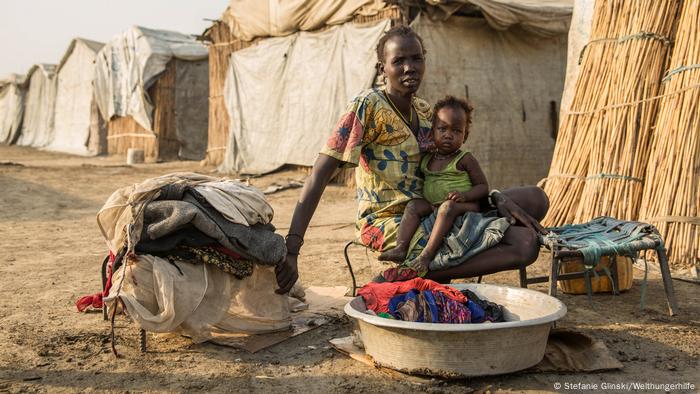 Concern's work in South Sudan has gone hand-in-hand with the country's timeline. In response to the growing needs, we provide emergency, resilience and long-term development programming.
Chad
Despite a $4 billion pipeline that links the country's oil fields to coastline terminals,Chad is one of the world's poorest countries thanks to poor infrastructure and conflict (most notably from the militant group Boko Haram). Ongoing conflict and the effects of climate change mean that nearly 48% of Chadians live in a state of economic vulnerability (per World Bank data from 2011). The country's per capita CNI is $1,750 and its average life expectancy is 53.2 years. Most children receive a mean of 2.3 years of schooling (compared to the expected 8 years).
Concern has worked in Chad for 12 years, and in the last 2 years we've stepped up our efforts in an already-precarious country following added aggravation that has left 4.7 million people in need of humanitarian assistance. We are responding to the humanitarian needs of displaced populations in the Lake Chad area, implementing health and nutrition programmes to deliver life-saving assistance. Our work in the Sila region of eastern Chad focuses on building community resilience to counter potential disasters.
Burundi
The Republic of Burundi has been in conflict consistently since gaining independence from Belgium in 1962. Culminating in civil war in 1994, the conflict has left nearly 65% of the population living in extreme poverty (according to 2014 data from the World Bank). Its GNI per capita is a mere $702, with a life expectancy of 57.9 years. Most children only complete 3 years of schooling, against an expected education of 11.7 years.
We've worked in Burundi since 1997. Our current focus is programs around health, nutrition, and livelihoods. Concern's community-based health and nutrition work has been successful here, especially with improving the nutrition and overall health of those excluded from the national health system. Additionally, we place a high priority on maternal and child health in Burundi. With 740 deaths per 100,000 live births, the country is one of the most dangerous places in the world to have a child.
Mali
The fourth-largest country on the African continent, Mali's capital of Bamako once flourished as a trading post. Today, however, the country (which gained independence from France in 1960) has a GNI per capita of $1,953 and a life expectancy of 58.5. Ongoing war and conflict mean that the mean years of schooling in the country is just 2.3 (compared to an expected 7.7 years of schooling). The World Bank's most recent data from 2009 reveal that over 41% of the population lives below the poverty line.
Burkina Faso
Bordered by both Mali and Niger , Burkina Faso is another former French colony that has suffered conflict and coups following its independence in 1960. Drought has also plagued the country, resulting in a mean 1.5 years of schooling compared to the expected 8.5 years. Burkina Faso's GNI per capita is $1,650, with a life expectancy of 60.8. The World Bank's 2014 data indicate just over 40% of the population living in poverty.
The other side of Linturi
The politician was elected to the Senate in 2017 after serving as Igembe South lawmaker for more than two decades.
1. Arrested over 'Madoadoa' remarks at Eldoret rally
The lawmaker was arrested over controversial remarks he allegedly made during a rally in Eldoret on January 8. His arrest follows a directive by the Director of Public Prosecutions (DPP) Noordin Haji to the Inspector General of Police Hilary Mutyambai to initiate an investigation into the remarks. The National Cohesion and Integration Commission (NCIC) waded into the debate, indicating that the utterances attributed to Linturi could not only bring hate but also likely to affect harmonious coexistence between Kenyan communities.
2. Arrested over Sh530 million bank forgery claim
Linturi was on March 2021 arrested over claims he'd used forged signatures to secure an Sh530 million bank loan with properties of his estranged wife as collateral. In a petition filed before the High Court, Marianne Kitany, the estranged wife of the Meru Senator, accused him of forging signatures to secure the multimillion-shilling loan from Family Bank. The DPP recommended his arrest and prosecution for criminal offenses linked to the loans, overdrafts, and other credit facilities from the lender.
3. Child support claims
In April 2013, a woman accused police of not arresting the Meru Senator after he defaulted on Sh50,000 monthly maintenance as per a court order. The woman claimed police were hesitant to arrest the lawmaker despite instructions from the court. The woman, a dentist, had moved to court in August 2012 after the MP allegedly abandoned her and their three-year-old son. She claimed he evicted her and the child from their house in Kilimani. The woman claimed that she was married to the lawmaker in May 2008 under Meru customary law and the couple was blessed with a son two years later.
4. Charged with attempted rape
Linturi was on September 2021 charged at the Milimani Law courts with attempted rape.
As per the court papers, he was accused of attempting to rape a 36-year-old woman, an incident which said to have taken place in January 2021, at Maiyan Villas Hotel in Nanyuki. Linturi was later released on a Ksh 200,000 cash bail or an alternative of Ksh 500,000 bond by the Nairobi-based court after his lawyer pleaded he be released on reasonable cash bail.
5. Bitter divorce
In 2019, Linturi again treated the public to drama in the courts after her relationship with one Maryanne Kaitany ended in controversy. Kaitany accused him of infidelity and fraud while he denied ever marrying her, claiming he'd invited her to his house as a visitor and she had overstayed her visit.
Best places to shop Shoes online in Kenya
Shop at the best online shoe stores to save money on a huge range of shoes – from boots to sneakers to kids shoes and everything in between.
When selecting the best online shoe stores we considered not only the stores themselves, but the way people shop for shoes in 2021.
You have to be able to shop with confidence, knowing that when you buy you can always return footwear at little or no cost, if it isn't for you.
The following are our top 5 Kicks e-stores in Kenya:
Kicks Kenya is one of the top picks for online shoe stores because it provides an excellent all round service, while offering a good range of shoes at competitive prices.
The website itself is easy to navigate, has excellent product photography, and offers loads of useful information on each product page.
If you're looking for the best prices and opportunities to save more, Malooku is one of the best options.
Malooku also boosts for it's first delivery of less than 24hrs anywhere in Kenya and ability to track your order.
We love that the picture of the shoes has pride of place, and there are so many images for each pair, showing you almost all the angles you could possibly want to see.
Malooku Kenya also makes a feature of its user reviews, and underneath each product you get statistics from customers detailing information on the shoe.
Jumia is a good online shopping site to shop almost anything from. It saves you time, energy and I can say sometimes money.
Unlike the above mentioned stores ,Jumia Kenya boosts of its wide category of product list.Ranging from kicks to accessories ,outfits to household utilities Jumia is among the leading e-commerce stores in Kenya.
The only disadvantage on Jumia according to client reviews on TrustPiliot the customer care services are poor due to overscaling.
4.Kilimall
One of the best online shops in Kenya with good deals at the most affordable prices. They offer flash sale deals which are cheap and great for ordinary people.
They deliver locally within 5 days and International orders within 15 days and 25 days.
They also accept returns on disputed products.
AliExpress has a consumer rating of 3.13 stars from 6,891 reviews indicating that most customers are generally satisfied with their purchases.
Consumers satisfied with AliExpress most frequently mention good quality, fast delivery and free shipping.
Read more
 The best places to hangout in Nairobi with less than Ksh 2000
List of hit songs of 2021
1.EX' by Nikita Kering
Songbird Nikita Kering gave us vocals upon vocals with the song off her album dubbed 'A side of me'
The year has also been good to the 19-year-old as in November, Nikita bagged two awards in the All African Music Awards (AFRIMA)
Kering won the Best Artiste Rnb and Soul category as well as the Best Female Artiste Africa category.
2.'Ndovu in Kuu' by Krispah x Khaligraph Jones, Boutross
The song by upcoming singer Krispah makes it to the list thanks to all the drama around the hit track.
From the alleged 'profiling' bars to copyright breach, 'Ndovu ni Kuu' made it to the list of the top songs in 2021 with over 8.4 million views so far.
3.'Siskii' by Mejja
Genge legend Mejja has blessed his fans with hits back to back but unfortunately most of his songs have been flagged on copyright allegations with Youtube deleting them.
That notwithstanding, 'Siskii' song released in February was one of the well received songs with fans vibing to the easy-breezy lyrics.
4.'Pete Yangu'– Bahati ft Nadia Mukami
The song with over 5.2million views is Bahati's hit song off his album 'Love like this' released in June 2021.
5.'Pombe/Above The Head'– Iyanii
The song gained momentum after President Uhuru Kenyatta lifted the curfew on October 20, during the Mashujaa Day celebrations in Kirinyaga county.
Kenyans celebrated the freedom to party and be 'outside' in wee hours with this song right here.
6.'Back it up'– Nameless and Wahu
Tiktok's best challenge this year goes to this compilation by love birds Nameless and Wahu.
7.'Only One'(Dawa ya Baridi) – Mr Seed ft Masauti
The hit song by Gospel singer Mr. Seed was one of the biggest hits after its release in mid-September off his album dubbed 'Black Child'
It took off with Tiktok challenges and managed to amass over 4.7 million views on Youtube
8.'Sipangwingwi'– Exray Taniua ft Trio Mio & Ssaru
The younglings gave us the 'ultimate come back' for the bad vibes and negative energy in our lives moving forward.
From politicians to influencers, the line is spreading like wildfire and its only prudent to mention.
9.'Such Kinda Love'– Otile Brown X Jovial
We all loved when Otile Brown reunited with his former signee Jovial for their hit song 'Such kinda love'
It was so good that the song still hit over 13.5 million views on YouTube.
10.'Hapo Tu'– Nyashinski ft Chris Kaiga
For the last song on the list, the beautiful compilation of Nyashinski and Chris Kaiga released in the last days of 2020 basically hit the airwaves in 2021.